Here in this post, we are going to give you a detailed guide on the steps to produce bar soap in Nigeria. We hope you find this article educating.
Introduction
What is Soap?
Soap is simply described as the product of the reaction between an alkaline substance such as sodium hydroxide and fat. The importance of soap to human existence cannot be overemphasized.
Read Also: 13 Steps to Produce Liquid Soap in Nigeria for Sale and Domestic Use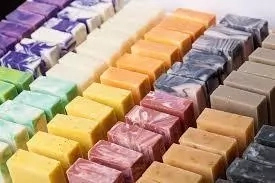 The invention of soap by humans is as old as the invention of fabrics and clothes. Although the science of soap making continues to develop and is on constant improvement, the purpose has not changed, and that is to meet man's need of guaranteeing hygiene.
As long as waste management continues to be an issue in Nigeria soap making research will continue to take centre stage in our institutions.
However, in Nigeria today, due to lapses in our developmental goals, we don't have many affordable training institutes where individuals can go to learn industrial procedures on production, but not to worry. This article is meant to show you simple steps on how to produce bar soaps at home.
Read Also: 11 Steps To Produce Antiseptic Soaps In Nigeria
Demand for Laundry bar Soaps in Nigeria
Bar soap, also called laundry soap is one of the lucrative businesses in Nigeria. This is because of its high demand in society.
Soap making business is not one of the businesses that can be affected by the economy of the nation, because people must wash their clothes.
There is no household in Nigeria that does not use soaps. Apart from bathing, soaps are needed to keep households utensils and instruments clean.
Soaps are needed for the daily need of maintaining the hygiene of our clothes and fabrics. Because of its lasting nature, bar soaps for laundry or bathing are preferred above liquid or powder one.
Have you ever imagined why bathing soaps are mostly available in bar form rather than in liquid or powder form? The reason is quite simple, it's economical to keep bar soaps than other forms of soap.
Liquid and powder soaps can easily be wasted under the slightest accident. Little wonder we still have lots of soap brands today in bar form in our markets despite the upsurge of both liquid and powder soaps.
Read Also: How To Produce Bathing Soap In Nigeria
Design For Bar Soap Making In Nigeria
Bar Soap Making in Nigeria like every other type of soap must be carefully and qualitatively designed in such that all the necessary qualities are captured in the soap.
The formulator is therefore supposed to be conversant with what these qualities are. You don't have to worry over that, for I am going to show you right away those essential qualities of a good bar soap.
It must foam very well.
It must be solid, strong and durable
It must have attractive scent or perfume.
It must have attractive colour
It must NOT itch one's hand or body (No scratching of any kind)
It must not cause the skin to peel or flake
It must not develop whitish flakes after a few days of production.
The points listed above are what a bar soap maker has to bear in mind as he goes ahead to make his or her soap.
Safety Measures to Making Bar Soaps In Nigeria
There are no production procedures that are completely without a form of accident if proper care is not taken. Same goes for bar soap making especially as this involves the use of chemicals.
Therefore I will now share with you certain things to do in order to avoid soap making related accidents, for prevention there say, is better than cure. Let us now look at what you must do and what you must not do during bar soap making preparation.
Focus – always avoid distractions and put your mind on the steps to be taken as failure to concentrate might lead to chemical spills or injuries.
Wear protective clothing which you must remove at the end of the whole procedure, these include,

Shoes
Eye goggles
Long sleeves
Hand gloves
Nose guards. These are to prevent your skin from any accidental spill of chemical.

Keep all the Chemicals in a separate place away from the reach of children. You don't want to expose your little ones to any form of danger!
Keep (If possible) a bottle of vinegar around you during the procedure. If you accidentally spill any chemical on the ground, pour some of the vinegar on the spot as this helps to neutralize the effect of the poisonous chemical.
Use common sense – in every circumstance, there are times when you just have to apply the use of common sense in situations where there might be no clearly stated rules of engagement. Always follow the rule of "safety first". Just make sure you do what would keep you and your loved ones safe.
Read Also: How To Produce Laundry Soap In Nigeria
Bar Soap Making Ingredients
Ingredients required for the making of bar soap are listed below:
Palm kernel oil (P.K.O)
Caustic soda Pearls
Soda ash (dense)
Sodium sulphate
Perfume
Water
Colouring (optional)
Equipment Needed For the Production of Bar Soap in Nigeria
You are going to need containers and other tools that will make your work easy to carry out. Below are the equipment that you'll find usable during this procedure:
Nylon sheets
Stamp or stamping machine
Hand gloves
Nose mask
A mixer (plastic or metal but not aluminium containers)
A measuring scale (in kg or litres)
A mould (wooden, plastic or metal of length-43cm, width-33cm, height-4cm )
Hydrometer
Containers (Plastic buckets).
Quantity (Measurement) Of Chemicals for Making Bar Soap
(Chemical)                                                                              (Quality)
P K O 3 Litres
Caustic soda solution 1.5 Litres
Soda ash solution        1.2 Litres
Sodium sulphate  0.6 Litres
Perfume to- taste
Colorant                                      to- taste
Step-By-Step Procedure for Making Bar Soap in Nigeria
This is now the all-important information you will find very useful as you set to produce your own brand of bar soap. You will need to follow these steps I am going to share with you to the letter in order to have a good result. The steps are:
Get three separate bowls each containing 2 – 3 litters of water
Pour the Caustic soda in Bowl 1
Pour the Soda ash in Bowl 2
Pour the Sodium sulphate in bowl 3 then leave the three (3) blows for at least 72 hours or 3 days. After 73hours or 3 days,
Heat the P.K.O. to make it warm and pour it into a very large container for mixing
Mix the Caustic soda water (content of Bowl 1), Soda ash water (content of Bowl 2) and Sodium sulphate water (content of Bowl 3) together in the big bowl containing the P.K.O then stir very well. Be careful when you stir to make sure you don't pass the light trace. This is important else your soap will be difficult to pour in the mould.
Add your preferred colour then stir
Add your preferred fragrance and stir together as well
By now you should have a pap-like solution called TRACE.
Pour the pap-like solution (trace) into moulds that have already been laid with nylon and allow it to dry until it becomes very strong
Remove the nylon and cut the slab into various sizes or your preferred size and now the bar soap is ready for use and sale.
Note: you will have to leave this for at least 4 – 6 weeks for it to properly form.
Read Also: How To Package Liquid Soap In Nigeria
Conclusion
Bar Soap Making as you can see is not a task that is meant for a privileged few. Anybody can take advantage of the process discussed here and go ahead to start making his or her bar soap.
I hope you'll start yours soon! Do it with excitement, share your products with friends and family and get their responses in order to improve on your design. If you're determined, your products may flood the market soon. It only takes a bold step.
👍Advertise your business on InfoGuideNigeria.com!
From just N4,999 per month, you can advertise your products and services to over 1,500,000 users on our website. Click here to read more.
👇👇👇👇👇
Information is Power!
Don't miss any valuable information or opportunity that can change your life, business, and family positively and permanently.
👇👇👇👇👇
For Latest updates on News, Jobs & Business Ideas, and Opportunities.
Copyright Warning!
Contents on this website may not be republished, reproduced, or redistributed either in whole or in part without due permission or acknowledgment.
.
Proper acknowledgment includes, but not limited to (a) LINK BACK TO THE ARTICLE in the case of re-publication on online media, (b) Proper referencing in the case of usage in research, magazine, brochure, or academic purposes,.
.
All contents are protected by the Digital Millennium Copyright Act 1996 (DMCA).
.
The images, except where otherwise indicated, are taken directly from the web, if some images were inserted by mistake violating the copyright, please contact the administrator for immediate removal.
.
We publish all content with good intentions. If you own this content & believe your copyright was violated or infringed, please contact us at [[email protected]] for immediate removal.
🤑 Start Making Money from home today!
👉 Get the correct
FREE FOOTBALL PREDICTION
TIPS
and
Guides
today.
Click here