Education
7 Steps to Start a Nursery School in Nigeria
Education is an important factor in the development of any society, it is also important that we provide the best possible basic education for our kids.
This Article will guide you on how to start a standard Nursery School in Nigeria and make good profits from it.
If you like kids and you love to teach, starting a nursery might be your ideal business choice. There are several schools in Nigeria, both private and public. I know of fifteen of such schools in my area alone. Some Nurseries admit, 3 to 5 year olds and things taught include;
Toilet Training
Dance
Rhymes
Poems
Songs
basic Numerals and coloring
It is a lucrative business if you know exactly what you are doing. I know of a Nursery in my area with  a fee of 150,000, and they have a population of almost 50 kids.
Read Also: Cost Of Starting A School In Nigeria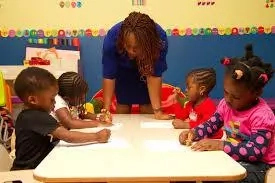 How Profitable is Nursery School in Nigeria
 Have you heard of school owners becoming millionaires? Well it is true, you can become a millionaire by starting up a simple, standard nursery in a Good environment.
Many parents are looking for quality schools for their children before they even turn two, this maybe because of their careers or business.
Parents will pay anything for quality education, some have even began using it as a status symbol. Depending on the environment where you set up your school, you can ask for a fee between 30 to 50,000. And when the population of your pupils begin to increase, you might even consider expanding to a primary school.
Read Also: How to Start A Catering School In Nigeria
Opportunities & Competition In Nursery School business in Nigeria
 By law, there are certain criterions you must meet before starting up a school in Nigeria. Sometimes, this criterions might even differ in some states. However, starting up a school is not much of a Herculean task if you follow this guide properly.
Mind You, it is important to note that the competition in the school business is really high. It is a gold mine that attracts everyone, but doesn't guarantee that everyone sees gold.
This places the power in the hands of parents, as they can easily withdraw their kids on the slightest provocation. This leaves a bad impression on your school and soon other parents will begin to do the same, so put on your best public relations smile, and call even that 22 year old mother Ma'm.
How to start Nursery School in Nigeria
1. Conduct a Feasible study of the Environment
This is the foremost step you must take towards starting your own Nursery. You must conduct a feasibility study of the environment, where you plan on setting up your Nursery.
This is important because, you want to know the financial class of people living in that environment, this will help you decide how to set up the school and also the intended fees for the school.
For example, you cannot spend so much money on the infrastructure of your school, and end up fixing the fees at 100,000 naira when majority of the population can barely afford a 3 square meal.
So take your time to study the environment, you could even take a house to house opinion poll of parents, this will give you a better idea on the mind set of parents in that area.
If the people in that environment are not so buoyant, there is no need going all out on the infrastructure of the school (It should be standard) but not too elaborate since you might not be able to recoup the money back in form of fees.
2. Choose a Location
 Except you plan on going all out in starting your own Nursery, I will advice you start a small daycare center in your home for starters.
If you do not know how the  operations of a nursery works, you can visit any nursery in your community (with your kid of course).
From your physical research and survey, you can then decide if you will want your nursery to operate the same way, with already established ones or you have a whole different idea in mind.
The environment will have great effect on your business, a good environment will leave an equally good impression on parents.
Read Also: How To Start Driving School Business In Nigeria
3. Buy Furnitures & Kids Items
Now that you have decided on a good location, it is time to make a list of kid items you will need to buy. Example of this items include;
Chairs
Small Tables
Toys
Games
Alphabets & Numerical charts
Mats and Mattress E.T.C
This is a small list of the essential things you need to set up nursery. Keep everything colorful (Don't buy monotone colors), Colors attracts children and not to mention that it helps to improve and widen their imagination. Plastic chairs are your Ideal choice to avoid incidents of nails and cuts.
You can get plastic chairs from your local markets or stores, as of early this year, it went for 2,000 naira per chair in Onitsha. A dozen chairs should be enough for the mean time.
4. Let People Know About Your Business
Pay special attention to this part of your business, take time to plan this part of your business properly. Distributing flyers at special occasion with adults is your ideal choice.
Like weddings, anniversaries, office parties e.t.c. You can also engage the services of social media platforms like facebook or even instagram.
Read Also: Top 10 business schools in Nigeria
5. Fee Determination
This depends strongly on the sophistication of your nursery, simple and home based nurseries tend to be cheaper and easily affordable for low class citizens.
However, more sophisticated nurseries usually raise the fees and it sometimes fall in the ranges of 50 to 100,000 naira.
According to a source in Lekki, a nursery charges a fee of 70,000 naira plus uniform, a tie, and lunch fee. Because of the environment where it is located, this nursery can still thrive and business will boom. So your FEE DETERMINATION should be based on this factors;
Location
Target market i.e economic class of population
State of school facilities
It is true that if you charge too low in some places, parents will run from your nursery, assuming that the facilities are inferior or below standard. So don't charge to small or too much.
6. Register Your School
This is not something you should be immediately concerned with. However, check with your local government to see if it is compulsory to have a license when at such early stages.
If you intend to expand your business in the long run, you would definitely need a license at that stage. There are two possible ways of expanding, you could get a bigger building and move. But for the more ambitious ones, you can decide to support your nursery with a primary school.
7. Get a Partner
Lets face the fact, kids will always be kids and will give a lot of trouble. No matter how good you are with kids, you cannot handle 10 to 20 children all by yourself.
So find somebody who is equally good with kids and set up a partnership or employ. Be careful doing this though, make sure your partner or employee has experience with kids, either a nanny or preferably a graduate.
This will save you a lot of problems in the future and parent complaints, which will eventually lead to withdrawal of their kids.
Read Also: 14 Ways To Improve Education In Nigeria
Conclusion
Education is much more important than gain. As a teacher, you are committed to impacting knowledge, this should come first before profits.
As your Nursery begins to grow, you also need to expand. Employ more staffs and a security guard to make sure that every parent, that comes to take his or her child is actually the parent of that child.
Do not allow adults inside the Nursery except they are being escorted by the security guard. And always make sure to know each child by his or her name and their parents, this will promote familiarity and trust. This will also prevent cases of kidnaps or other kind of harm.
🤑 Start making money from home today!
👉 Get correct FREE TIPS and Guides on how to make money from home today. Click here to start
.
👍Showcase your business here!
With over 1M unique users per month across all channels, we have a large audience for you to showcase your products and services. Simply get in touch via 👉 marketing@Infoguidenigeria.com.
🤑 Make Money now!
👉 Make money writing for us. Apply for Freelance writing jobs in Nigeria.
👉 Make Money as InfoGuideNigeria Advertising Agents, read more here
.
This post can be helpful to somebody else, please share it on Facebook, Whatsapp, Telegram and Twitter. There are buttons below for this (easy to use too)!
Copyright Warning!
Contents on this website may not be republished, reproduced, redistributed either in whole or in part without due permission or acknowledgment.
.
Proper acknowledgment includes, but not limited to (a) LINK BACK TO THE ARTICLE in the case of re-publication on online media, (b) Proper referencing in the case of usage in research, magazine, brochure, or academic purposes,.
.
All contents are protected by the Digital Millennium Copyright Act 1996 (DMCA).
.
We publish all contents with good intentions. If you own this content & believe your copyright was violated or infringed, please contact us at [infoguidenigeria@gmail.com] to file a complaint and we will take necessary actions immediately.