Media
Challenges Facing Advertising In Nigeria
Meaning Of Advertisement
Advertising is a form of marketing that is carried out in order to promote or sell a product, it is the act of calling the public's attention to one's products and services via paid announcements.
Advertising can be said to be as old as man's existence with the first biblical reference observed in the book of Genesis where the serpent advertised the qualities of the forbidden fruit to Eve.
Every Nigerian must have listened to the radio or watched a TV station at sometime in their life and while doing so, we must have observed an advert or two.
Read Also: The Major Differences Between Marketing And Advertising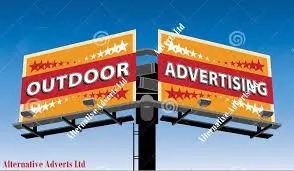 Advertisement is very popular in the Nigerian media and also of different forms. It may involve singing, such as the popular indomie advert, or it may involve audio or audiovisuals as well as pictures and animations.
Advertisements are usually sponsored by businesses and organization who wish to promote their products or services. It is usually paid for and is communicated through the various forms of mass media such as television, radio, newspapers, mail, internet and even through notice boards and bill boards.
Reasons For Advertising:
a. There are several reasons as to why advertisement is important to an organization or business venture. But in this article, we shall be looking at a few of the reasons which are listed below:
b. Increasing the sales of products and services on offer by the organization.
Maintaining the brand and image of the business.
c. Creating awareness in cases of changes or new offer in the existing product line.
Introduction of new product or service to the existing and prospective customers.
d. Advertising helps to increase demand for a particular product or service.
e. Advertising helps to create awareness on a particular feature in a product or service
It helps to retain existing costumers and consumers.
f. Advertising also helps to educate the public on social issues such as child abuse, child labor, child marriage, malaria e.t.c.
g. It helps potential customers make constructive comparison based on features and qualities described during advertisement.
Read Also: How To Start Advertising Agency In Nigeria
Classification Of Advertisements
Advertisement is majorly divided into two categories which are commercial and non-commercial advertisement:
1. Commercial advertisement
Commercial advertisements are usually carried out by an organization to improve the consumption of their products or services by higlighting the qualities of such products to the consumers. It is usually done to improve sales.
2. Non-commercial advertisement
This is when an organisation spends money to carry out advertisements on non-profit products and services. These may include political parties, religious organizations and governmental agencies and non-profit organizations.
Non-commercial advertisement may can also be carried out using free modes of persuasion , such as as public service announcements.
Forms Of Advertisements
Generally, there are different types of advertising available, but in Nigeria, only five are popularly employed. We shall be taking a look at the four forms of advertisement that are popularly used in Nigeria. They are explained below:
Online Advertising
Considering the rate at which the number of internet users in Nigeria keeps increasing at an unprecedented spate , it is safe to say that the internet is an effective platform for advertisers in Nigeria.
According to the NCC, ( Nigerian Communications Commission) the number of internet users in Nigeria stood at 93,591,174 as at August 2016. Also, internet penetration for 2016 stood at 50.1 percent.
Print Advertising
Print media like newspapers, magazine, fliers e.t.c is also one of the popular means of advertisement employed in Nigeria. Most adverts in the print media are usually paid for by individuals or business organizations.
Broadcast Advertising
This type of advertising is divided into two phases, which are radio broadcast and television broadcast. This method of broadcast is highly employed for advertising in Nigeria due to its popularity among the masses as almost every Nigerian listens to either the radio or watch the television.
Covert Advertising
This form of advertising is usually employed in movies. The Nigerian movie industry is the largest in Africa. Due to it's wide outreach, it is usually employed as a tool for advertisement.
Read Also: Top 10 Ideas On How To Advertise Your Business In Nigeria
Outdoor Advertising
This form of advertisement is usually targeted at audience who are out of home. As humans, we are always on the move, even in motion, we tend to observe the changes in the environment.
Outdoor adverts are usually packaged in a colorful way so as to catch the attention of the passersby. Billboards and posters are a good example of outdoor advertising.
Lately, outdoor advertising has improved from the normal popular roadside billboard to digital display panels across cities in Nigeria.
Problems Of Advertising In Nigeria
Advertising in Nigeria has witnessed rapid growth from its early beginning when town criers were used to announce the availability of various products and services to a multi-billion naira industry in Nigeria.
As synonymous with every other large income generating industry, there are always challenges. In this part of the article, we shall be looking at some of the challenges facing advertising Nigeria:
1. Governments Policies And Regulation
One of the major problems facing advertising in Nigeria is the lack of coordination between the various arms of government.
In most cases, especially in outdoor advertising, advert agencies usually suffer multiple payments to the various arms of government as the method of taxation and payment of dues are not harmonized.
Read Also: How to start online advertising in Nigeria
2. Poor Quality Human Resources
Another problem that hampers the growth and efficiency of the advertising industry in Nigeria is the issue of lowly trained personnel and staffs in advertising agencies.
Lack of adequately trained and educated staffs and practitioners have consequently slowed down the growth of the industry.
3. Low Level Of Technology
In Nigeria, only the large and established organizations in the country have embraced digital technology and every other new trend in advertising simply because they can afford it.
Small and medium scale industries which contribute the bulk of businesses and organization in the country have failed to do so and this in turn has led to poor patronage of advertising agencies and poor adoption of technology for advertising as most firms can't afford it.
4. Debts
As a result of client's indebtedness, most of the agencies are reeling in crippling debts that are threatening their survival.
Considering the huge investment on those hoardings, the impressive digital display panels, payment to government agencies and cost of operations, debt management is one of the major concerns for any investor in this market.
5. Corruption
The corrupt practices which advertising agencies, their patronizers and even the government engage in has further diminished the growth of the advertising industry in Nigeria.
Some questionable and dubious underground dealings such as substandard service delivery, abandoned hoardings, gross disappointment, unprofessional behavior of staffs, theft, illegal conversion of organization properties and many others that are being perpetrated in the advertising industry has gone unabated, this has consequently crippled the productivity and efficiency of the advertising industry.
Read Also: 12 Advertising Ideas that Work Well in Nigeria
6. Lack Of Research
The apparent lack of research, innovation and strategic planning in the advertising industry in Nigeria is one of its biggest challenges as it is well known that a deep market analysis helps to point out areas that needs improvement and also innovative practices are capable of boosting sales and market value.
Therefore, the growth and expansion of the advertising industry in Nigeria also depends on quality market research and innovations.
Buy and Sell Bitcoin in Nigeria - Register for free on Luno
Click here to see the latest
Study Abroad Scholarships and Guides
Click here to see the latest
Jobs opportunities in Nigeria
.
Copyright Warning!
We work really hard and put a lot of effort and resources into our content, providing our readers with plagiarism-free articles, original and high-quality texts. Contents on this website may not be copied, republished, reproduced, redistributed either in whole or in part without due permission or acknowledgement.
Proper acknowledgement include, but not limited to (a) Proper referencing in the case of usage in research, magazine, brochure, or academic purposes, (b)"FAIR USE" in the case of re-publication on online media. About possible consequences you can read here: What are the consequences of copyright infringement? In an effort to protect our intellectual properties, we may report your website to Google without prior notice and your website be removed from search engines and you may receive a strike. All contents are protected by the Digital Millennium Copyright Act 1996 (DMCA).