Why was Nigerian Prison service established? In this post, you will see the 7 functions of Nigerian prison and why it was established and funded till now.
Going by the imprisonment policy of the Nigerian prison, the  Nigerian prison service was founded with the mandate of managing law offenders and criminals in prison custody.
👉 Relocate to Canada Today!
Live, Study and Work in Canada.
No Payment is Required! Hurry Now click here to Apply >>
Immigrate to Canada
This statutory responsibility of the Nigerian prison allowed for the Nigerian prison officials to partition its prison custody in such a way that could accommodate different offenders according to the weight of their crimes.
Read Also: 10 Conditions of Nigerian Prisons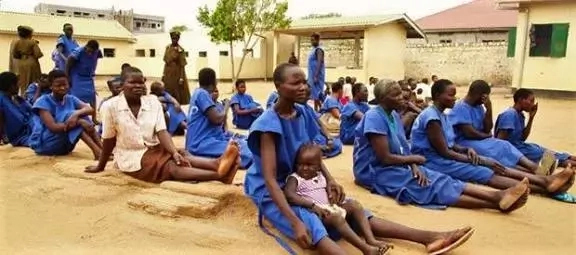 For example, the convicted offenders in a different prison yard, as well as, the awaiting trial offenders in a different prison yard, until they are demanded by the court of law.
7 Functions of Nigerian Prison
There are quite a number of functions assigned to the Nigerian prison, and in this article, we are going to look at a number of them together, without much ado, what are these functions of Nigerian prison?
Read Also: Lawyers confirm prison congestion is due to stringent bail condition
1. Social Isolation And Confinement
Nigerian prison has been known for isolating individuals who committed offense from the society, offenders are being confined in the prison, so anybody who commits an offense, he is liable to social isolation, and possibly, would be confined in Nigerian prison.
The reason of isolating individual from the society, whenever they commit an offense is obvious, reason being that he has proven himself to be a social threat.hence, should face the full weight of law.
Allowing such offender to walk free on the the street will amount to negligence on the part of the authority, because the offense he committed is offense that is publishable by law, then he needed to be published so as to serve as deterrent to others.
👉 Relocate to Canada Today!
Live, Study and Work in Canada.
No Payment is Required! Hurry Now click here to Apply >>
Immigrate to Canada
Going by this fact, one of the functions of the Nigerian prison is to imprisoned anyone who violated the law of the land.
2. Enforces Repentance
The Nigerian prison enforces repentance in law offenders, because sometimes, until law offenders are imprisoned, it may not be done on them  that what they did was against the law, that, it is condemnable in the society, so once they are imprisoned, it will done on them.
There is an adage that says, ' a cow does not know the value of its tail until it is cut off, therefore, that adage is application here.
In most cases, when law offender is imprisoned, that could be a better opportunity for him to ponder on his wrong did, that is, once he has been isolated from the society, he misses the real essence of life, he will think, such thinking can give him the heart of a repented prodigal son.
Therefore, from my assessment, imprisoning a law offender by the Nigerian prison can give him a heart of remorse.
Read Also: 11 Crimes You Probably Didn't Know Thank Can Land You in Prison
3. Punishes To Serve As Deterrence
Violating the law of the land is a sin against God, a sin against an authority, and it could be a sin against a fellow human, and whether it is called sin, or it is called offense, or call it crime, once it is publishable by law, it must be published, and once that is done, it will serve as deterrent to others.
Be that as it may, one thing is to imprisoned an offender, another thing is to publish offender. Under this sub heading, we are considering punishment.
To publish means to inflict pains on the offender and cause him to suffer the consequences of his offense. When law offender is published, the law abiding members of the society would be encouraged to remained responsible citizens of the society., because they will reasoned perhaps, they are being protected from the threat of the offender, yes, that is encouragement to live discipline and responsible in the society. Therefore, law offender is published by the Nigerian prison to serve as deterrent to other members of the society.
4. Protects Citizens From Criminals
One of the reasons why the Nigerian prison have law offenders or criminals in their custodies is to protect the society from these criminals and their criminality.
If every criminal would be taken off the streets, members of the public will live an easy free life, people will be free to move around, time notwithstanding because the society is free from armed robbers, free from kidnappers, free from insurgency.
Therefore, once these set of criminals are apprehended, and they are in the custody of Nigerian prison, the society is saved and the members of the public are protected. So the Nigerian prison has served a great of purpose by protecting Nigerian citizens from criminals.
Read Also: Court jails a man for stealing from hotel guests
5. Enforces Reformation
The Nigerian prison has enforced reformation on the part of the offender. This is the reason, there are  some reformation programs undertaken by the Nigerian prison on behalf of the prisoners.
These programs are likely to reform a prisoner, change his value system, and perceptions, and may possibly give a prisoner a new concept about life, a kind of concept that will re-socialized him and reunite him back to his family and community.
There in the prison custody prisoners are undergoing training in different trades, so they will spent those numbers of years in the prison custody learning trade, and all things being equal, if they come back, they could become better persons by engaging knowledge gained, while in prison to better their lots, and possibly become responsible.
6. Produces Suspects In The Court
One of the functions of the Nigerian prison has been to produce suspects in the court. Suspects are only taken to court only when the court of law is in demand of the offenders. If at the law court, the offender is discharged and acquitted, he goes, if convicted, he is back to his prison custody.
7. Keeps Convicted In The Lawful Custody
The Nigerian prison service has responsibility of keeping convicted offender in a lawful custody, that is, those who have been certified by the court of competent jurisdiction to be taken to the prison.
Read Also: Bet9ja: Man jailed for gambling without paying
Conclusion
The  Nigerian prison service was founded with the mandate of managing law offenders and criminals in prison custody.
👇👇👇👇👇
Immigrate to Canada Via Job Offer!
Get latest Jobs in Canada for foreigners with visa sponsorship 2023 and how to apply. Don't miss this opportunity that can help you relocate to Canada with your family.
👇👇👇👇👇