Economy
13 Functions of Trade Union in Nigeria
In this post, you will see the functions of trade union in Nigeria. Trade Union is the coming together of persons, usually workers who combined primarily with a view to defence their cause, as workers, and to regulates the relations that exist between them, the employees, and the employers, and sometimes it could be between employees for taking step to stop or restrict any trade or any business as the case at be.
What is Trade Union?
A Trade Union is a group of workers, working collectively, for the purpose of protecting their interest and promoting their cause as workers, including mutual understanding between the workers and the employer through collective bargaining.
👉 Relocate to Canada Today!
Live, Study and Work in Canada.
No Payment is Required! Hurry Now click here to Apply >>
Immigrate to Canada
Read Also: Challenges Facing Trade Unions In Nigeria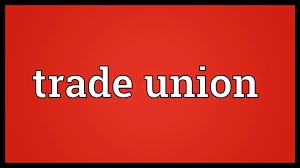 14 Functions of Trade Union in Nigeria
There are some functions assigned to trade Union in Nigeria, let us discuss few of them.
1. Ensures Workers' Security
Through the trade Union influence, workers'  security is assured, and as a result workers are enjoying continuous recruitment of workers thus, discouraged lay off of workers and lock- outs of workers.
More so, given the activities of the trade Union, retrenchment of workers and dismissal of workers, as well as discharging of workers is a thing of the past.
Read Also: Problems and Prospects of Trade Union in Nigeria
2. Ensures Better Economic Returns
Trade Union has ensured better conditions or better economic return.  They have made it possible that, even during salaries hike at sometimes in work place, workers are enjoying continuous subsidized canteen and transportation facilities, some admissible allowances are accruing to the workers, including higher rate bonuses, courtesy of trade Union.
3. Influences Management
One of the purpose of establishing trade union was to influence the management to respect the interest of the workers by giving them, the workers a favourable working condition.
However', after the inauguration of the trade union, they began to work with a view to realize this objective, nevertheless, today, the trade union has gotten that power, and are engaging the management to respect their human rights.
👉 Relocate to Canada Today!
Live, Study and Work in Canada.
No Payment is Required! Hurry Now click here to Apply >>
Immigrate to Canada
And as a result, workers are participating in management processes in an organization, as well as taking part or involving during decision making, in fact, the trade union has played major role in determining policy decisions that have affected the workers and other staff members in an organization.
4. Influences Government
Through the activities of the trade union, they have been able to influence government. They got the power to influence the government through a sense of purpose on their part through working together to achieve a collective interest of the workers.
One of the statutory functions of the trade union has been to fight and secure a better working condition for the workers, therefore, going by this, they have worked on a legislation, which according to the legislation, the trade union was legislating on welfare of workers, safety of workers, security of workers, retirement benefits of workers.
Besides these other trade union interest was improved working condition for the workers, as well as, where there is grievances,  seek redressal of such, any time they wanted to do so.
5. Secures Fair Salaries For Workers
One of the functions of the trade union has been to fight and ensure that the management approves fair wages for the workers, such that commensurate with the numbers of the working hours. Trade union indeed has fought to secure a better pay package for the workers, and have succeeded.
Read Also: How the World's Least Developed Countries Can Improve Trade
6. Safeguards Security Of Tenure
The trade union has worked vigorously to secure, and as well safeguard the worker's security of tenure thus, it is difficult to hire a worker today and fire him tomorrow, courtesy of the trade union. Besides this struggle has helped improved condition of service for the workers.
7. Enlarges Opportunity For Training
Courtesy of the trade union, training of workers with a view to upgrade their knowledge on the imperative of the modern working situation has been taken as one of the management's priorities.
Workers and other staff members are enjoying the privileges of being train either through in-house training or being sent out for training purposes. And has led to massive promotion of staff members.
8. Improves Living Condition
Through the efforts and the activities of the trade union, the living condition of the workers have been improved, reason is obvious.
The trade union have successfully engaged the management, demanding of workers' fair condition of service, and while this was approved and given to the trade union by the management, it has reflected on the workers' living condition.
9. Provides For Education And Recreational Facilities
The saying, 'all works within play makes Jack a dull boy', is true in essence, and it has played out here. Going by this, the trade union has been making sure that there should be educational facilities to upgrade their workers intellectually, and at the same time, recreational facilities to keep the workers balance bodily, and this, they have gone ahead to do. The have made provision for these facilities, and members staff are enjoying them.
Read Also: How to Register Trademark in Nigeria
10. Broadens Workers' Knowledge With Technology
Technology is the in thing today, the world has been taken by surprise by technology, that is why, it is called technology age.
With this understanding, the trade union has deemed it wise to upgrade their workers knowledge technologically hence, has facilitated technological advancement with the sole aim of broadening workers' understanding on those issues that would make them thrive efficiently in their work place.
11. Promotes Identity Of Workers' Interests
Workers identity of interest in their various industries has been, and is still being promoted by the trade union. Therefore, individual worker can proudly identify his interest even in a conglomerate of industries.
12. Improves Production And Productivity Level
Through trade union activities, and the encouragement gotten as a result of trade union functions, there have been improvement in the area of production and productivity on the part of the workers.
Trade union has graciously brought about responsive cooperation among member of staff, thus, has improved productivity in work places.
Besides this, there is high level of discipline at least to some extent among members of staff in an organization hence, birthed high quality of performance.
13. Promotes Individuals And Collective Welfare
Trade union, with their activities has been able to promote the welfare of every worker within the work place. In fact, not only individual welfare that was fought for by the trade union, they have also fought for the workers' welfare collectively.
Read Also: Advantages and Disadvantages of International Trade
Conclusion
Trade union as an organization of workers coming together to fight for a common cause has indeed functions creditably by fighting to ensure workers' fair wages, security of tenure, better condition of living as we as better working condition among others.
👇👇👇👇👇
Immigrate to Canada Via Job Offer!
Get latest Jobs in Canada for foreigners with visa sponsorship 2023 and how to apply. Don't miss this opportunity that can help you relocate to Canada with your family.
👇👇👇👇👇
👍Advertise your business on InfoGuideNigeria.com!
From just
N9,999 per month
, you can advertise your products and services to over
1,500,000 monthly
users on our website.
Click here to read more
.
======
🤑 Make Money now!
👉 Make money writing for us. Apply for
Freelance writing jobs in Nigeria
.
👉 Make Money as InfoGuideNigeria Advertising Agents,
read more here