Samosa, also known as Sambusa or Samboksa, is a fried or baked snack that is thought to have originated from Southeast Asia.
The snack, which is triangular in shape, is filled with savories like onions, peas, noodles, lentils, spiced potatoes, minced meat and much more. This snack is a favorite around the world from the Indian subcontinent to the Arabian Peninsula to the whole of Africa.
👉 Relocate to Canada Today!
Live, Study and Work in Canada.
No Payment is Required! Hurry Now click here to Apply >>
Immigrate to Canada
In Nigeria, small snacks such as this are referred to as small chop. Also in this categories are delicious savories such as Sausage Rolls, Snails, Peppered Gizzards, Barbecued Meats, Puff Puffs etc.
Read Also: How To Make Nigerian Pizza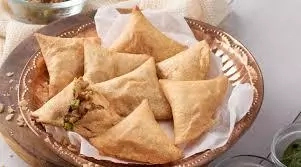 However, these days, Nigerian caterers have taken it up a notch by importing foreign snacks recipes and adding our own special twists and spices to them to make part of our small chops family. One of those is Samosa.
As a result of its taste and popularity, snacking on this delicious dish has become something to look forward to by many people at weddings, birthdays etc.
It is almost always served as an appetizer these occasions. This is why many caterers have been learning the various creative ways it can be made.
We really don't know what makes this snack so beloved by a good number of people but we do know that when served at parties, they are quickly devoured.
And since at most parties, they only make small amount of them available to guests, we have decided to bring to you the best way to make this delicious snack and satisfy your hunger for it. Here we give you the recipe and steps of making about 8 samosas:
Read Also: Preparation Of Nigerian Meatpie
👉 Relocate to Canada Today!
Live, Study and Work in Canada.
No Payment is Required! Hurry Now click here to Apply >>
Immigrate to Canada
Ingredients to make samosa in Nigeria
(For the Samosa dough)
60g (2 oz) plain flour (all purpose flour)
2 tablespoons of vegetable oil
A pinch of salt
Warm water
Half teaspoon of dry parsley and thyme
Vegetable oil for deep-frying
(For the filling)
100 gr of minced beef or chicken
1 large Irish potato
1 medium carrot
2 handful of green peas
1 small bowl of spring onions
1 pinch of garlic powder
1 pinch of black pepper
2 cooking spoons of vegetable oil
1 big stock cube
1 teaspoon of curry powder (for colour, no chilli)
Salt and ground cayenne pepper (to taste)
Vegetable for deep-frying
Read Also: How To Make Nigerian Akara
Steps to make samosa in Nigeria
(For the filling)
Cut the onions into spring circles and set aside
Wash, peel and cut the Irish potatoes and carrots.
Dice the potatoes and carrot into small chewable bits, add green peas, salt and cook for 4-5minutes
Make sure the potatoes and carrots are soft enough but not too much. Take it off the cooker, strain and set aside also
Heat up the vegetable oil in the pot for 1-2 minutes. Add the onions, curry powder, black pepper, garlic and stir for about 5 seconds.
Add the minced meat/chicken and stir-fry it until the color changes from pink to a pale color. For the chicken, wait until it turns white.
Read Also: How To Prepare White Moi Moi
Add seasoning cubes, chili pepper and salt to taste.
Add the cooked vegetables and mix it together thoroughly on medium heat for 2-3 minutes.
Then set it aside to cool.
(For the dough)
Pour the flour into a medium mixing bowl.
Add warm water, salt and vegetable oil and mix till you have a smooth stretchy dough
Cover the mixture with an air tight plastic wrap or aluminum foil and leave it to breath for about 15 minutes.
After that, you can start kneading the dough to make it stretchier.
Using a rolling pin, roll out the dough and avoid making it thin by letting the thickness be of about 3-4mm.
While some use the circular dough cutter, you can also use the tip of a round glass bowl to cut the dough into circles.
Next, you should cut the circles into halves, water the straight part of the dough before shaping the dough into cone sizes while still leaving the dough opened.
Read Also: How To Make Nigerian Buns
You can start putting the filling into the opened dough. Do this till every bit of it is exhausted.
Don't overfill the samosa cones with the fillings and make sure they are closed tightly
Heat up some vegetable oil in medium heat and fry the samosas in it. Fry until the color changes to light brown.
Remove the made samosas and place them on a paper towel to soak up the oil
Serve hot with Smoothie, Zobo or Juice.
👇👇👇👇👇
Immigrate to Canada Via Job Offer!
Get latest Jobs in Canada for foreigners with visa sponsorship 2023 and how to apply. Don't miss this opportunity that can help you relocate to Canada with your family.
👇👇👇👇👇