Technology
15 Impacts of Science and Technology in Nigeria
In this article, we are going to discuss 15 Impacts of Science and Technology in Nigeria. We hope you find this information both educating and enlightening.
Science and Technology have permeated every facet of human existence. The role science and technology have played in the world cannot be quantified.
👉 Relocate to Canada Today!
Live, Study and Work in Canada.
No Payment is Required! Hurry Now click here to Apply >>
Immigrate to Canada
In fact, one cannot imagine what the world would be without science and technology. There is already an established over-dependence on technology in virtually every sector of a country's economy.
Read Also: Technological advancement in Nigeria so far as 2019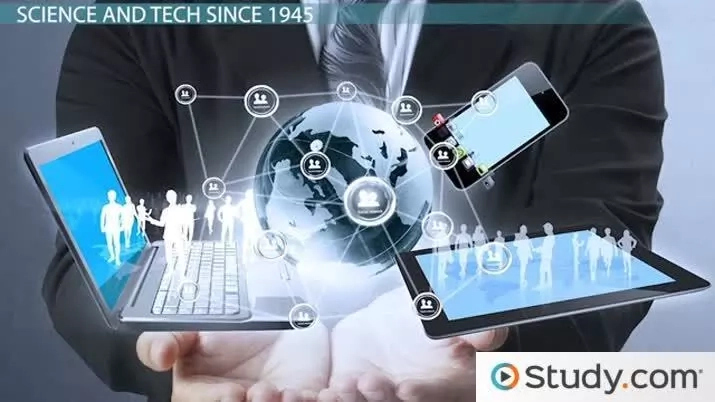 In Nigeria, Technology has improved our farming processes to more commercialized agriculture, our society has greatly reaped the benefits of science and technology in recent times. I can say that science and technology have caused the great developments in Nigeria that we see today.
However, Science and technology have cost us a great deal too, emissions from machines and other complications of global warming.
The good news is that scientists are not resting as they continue to look for better ways and technologies to simplify our life processes. This article seeks to enlighten you on the impacts (positive and negative) of science and technology in Nigeria.
Read Also: 15 Impact of Technology in Nigeria
History of Science and Technology in Nigeria
Prior to the colonial era, Nigeria's economy was based on majorly subsistent agriculture. Tools were made from crude iron by blacksmiths.
Iron ore mining and smithing were done predominantly in Oyo, Jos, Bauchi, Zaria, Taruga, Kainji dam. Also textile weaving, tie and dye and spinning of wool, ginning was also a serious occupation in the pre-colonial Nigeria using locally constructed machines.
👉 Relocate to Canada Today!
Live, Study and Work in Canada.
No Payment is Required! Hurry Now click here to Apply >>
Immigrate to Canada
There was also a prevalence of different artworks and crafts. These produce were traded by merchants who had to travel far on donkeys or camels from North to east or west to trade.
Such journeys took many days or months as the case may be. Colonization launched us into a more commercial economy where new cash crops like cocoa, rubber, palm oil, ivory, guns, pepper, coffee, groundnut were discovered and traded, slaves were also traded to the colonial masters, who shipped a large part of Nigeria's workforce to Europe as slaves.
Despite this, the colonial rule formed the foundation for science and technology development in Nigeria. With education and exposure to a lot of machines which they brought with them, we can't deny that technology has made significant changes in our lives today especially in every sector of Nigeria's economy.
Positive Impacts of Science and Technology in Nigeria
Science and Technology have immensely impacted on our societies. In Nigeria, the following sectors have benefited more from science and technology.
1. Agriculture
Pre-colonial agriculture was a subsistence-based but now agricultural systems are more commercialized, thanks to science and technology.
Tractors, ploughs, planters, ridgers, harvesters' machinery and fertilizers have really boosted our agriculture sector and commercialized it to trade in international borders.
Also the improvement in transportation and storage equipment like silos, refrigerators have helped in keeping perishable farm produce like fish, tomatoes etc. fresh for consumption.
Science has also brought about the production of genetically produced plants like potatoes, which can withstand pests and diseases, thereby saving farmers from excessive use of pesticides.
Through Science and technology, rearing of animals have been simplified by the production of feeds like blood meal, fish meal, layers feed and also genetically produced animals from cross-breeding of animals has helped to produce stronger and more efficient animals.
Another impact of science and technology in agriculture is in the area of irrigation. Irrigation has aided the northern farmers in planting crops all year round.
Read Also: 10 Importance of Educational Technology in Nigeria
2. Entertainment
There has been a great improvement in Nigeria's entertainment industry in recent times, thanks to science and technology. Digitization of video and music has helped to drive revenue in Nollywood.
The advent of smartphone technology has revolutionized the entertainment world, from tape and video cassettes to CD players to DVD players to high definition video content being streamed on all devices.
Technology has also opened channels to creativity and exposition as almost everybody can create stuff and display it for the world to see
3. Finance
Science and technology have permeated into Nigeria's finance system bringing about changes in the functionalities of the financial industry.
Mobile banking, Automated Teller Machines (ATM), e-payments and fund transfer, online banking platforms, ICT integrated project banks, electronic mail for updates to customers, banking automated clearing services for clearing of cheque transactions and various FinTech functionalities would not have been possible today if not for science and technology. Nigerian financial system has gradually shifted to a more customer-centric system.
4. Production processes
Science and Technology have increased the speed, efficiency and flexibility of production processes in manufacturing, wholesale and retail sector.
Manufacturers, retailers in Nigeria are able to organize relationships with customers and create a wide range of things that can be produced.
Technologies like intranets, extranets, resource management, accounting systems, online procurements, supply chain management software, 3D printing, industrial robotics, advanced data analytics and predictive technologies have increased the coordination of the production processes in Nigeria.
5. Telecommunications
Science and Technology have made a huge impact in the telecommunication industry in Nigeria. One notable invention is the internet and also mobile broadband technology.
We have gradually moved from 2G to 3G to 4G and soon we'll have 5G mobile broadband. Local and International calls are now made on cheaper tariff plans, thanks to science and technology.
Also, social networking sites have enabled easier and faster communication unlike the days of post office and letters. Also, the telecommunication technology is collaborating with the financial sector to drive financial inclusion for all with mobile banking and other e-payment platforms.
Read Also: The Role of Technology in Education and Training in Nigeria
6. Oil and Gas Exploration
Nigeria has a huge over-dependence on oil and gas as a major source of national income. Although, we still ship our crude oil abroad to be refined.
Science and technology have developed better ways of drilling and production of different components of crude oil, which we are integrating into the construction of our refineries.
New technologies e.g flexible drills, 4D seismic monitoring, hydraulic fracturing in oil and gas exploration has brought about drilling and production of oil in problematic locations, improve the monitoring of oil fields, access shale gases, sustain production in depleted oil fields and produce eco-friendly products.
7. Construction
The Nigerian's construction sites are now more productive with the use of great machinery brought about by science and technology.
Bar-codes or QR codes and Telematics are put on machines to avoid vandalism and improve the functionality of machines. Smart wearable sensors, 3D models for construction, drones, 3D printing, Smart meters and robotic exoskeletons are also great impacts of science and technology to the construction industry in Nigeria.
8. Health
Through Science and Technology, medical assistants and health information technician are now able to digitize health records to a central database and easy access to patient's record, provides data for research and alerts doctors on health issues.
Also, IVF technologies for pregnant women, artificial insemination, incubation technology and Caesarean section has ease deliveries of healthy babies. Electrocardiograms, Photo-scan and X-ray technologies have assisted in diagnosis and treatments.
Telemedicine, health and Tele-monitoring technologies enable monitoring and communication between physicians and patients, thus enhancing the health sector in Nigeria.
9. Transportation

What will Nigeria be without transportation? Science and Technology have broadened our transportation sector, stemming from the construction of good roads networks linking all the states in Nigeria, the construction of ships, aeroplanes, helicopter, motor vehicles, trains, motorcycle and tricycles to move people, goods and services around the country. There is ongoing construction of monorail to also meet transportation purposes.
10. Education
Human capital development has been immensely enhanced by technology. Nigeria's educational sector has evolved to bring about personalized learning, enhanced research, encourage distance learning and bring about value-added learning experience aimed at developing well-rounded individuals. EdTech has made a significant impact in the educational sector of Nigeria.
Read Also: How to Improve Technology In Nigeria
11. Research and Development
Thanks to science and technology, the world is now an information society. Technology provides researchers with evidence for the dissemination of research report and findings through cloud computing.
The internet houses a whole lot of articles on every aspect of life and thereby facilitating research. News on recent development in every field of study is published on the web. This has helped to broaden our knowledge on a lot of things
12. International Collaboration
Through Science and technology, Nigeria has been able to trade on international borders, gain international recognition and actively collaborate with other nations.
Imagine, if we had no technology, there would be no distant learning, no communication with the outside world, many technologies would not be made available to us, we may still be primitive and may not have reached the level of development we have today.
Negative Impacts of Science and Technology in Nigeria
13. Environmental Degradation
We have recurrent issues of increase in temperature, global warming and ozone layer depletion, which are allegedly caused by the machinery invented by science and technology.
Greenhouse gases are released from machines and industries causing climate change, animal extinction and climate change affecting the world, of which Nigeria is not excluded. However, scientists are working hard on the production of zero-emission machines to combat these issues.
14. Social isolation
One negative impact of science and technology is a reduction in actual social interaction. There is over-reliance on machines and it has been projected that in a few years from now, machines and robotics technology would take human jobs.
Also, there are too many hours of our lives as human beings spent on screen, not allowing physical interaction with fellow humans. Communication technologies are amazing but it's killing our social lives.
15. Health Challenges
There are a plethora of diseases consuming the lives of many Nigerians as a result of environmental degradation caused by machines. Cancers and carcinogens agents are abounding in the food we eat due to preservative technologies.
Also, drugs are proven to increase the potential risk of humans to death as well as x-ray and chemotherapy that kill the cells of humans. Many new mental illnesses abound in our world today. Excessive population and traffics in cities increase stress levels.
Read Also: Promotion of Science and Technology Education in Nigeria
Hence, Science and technology increase the potential health risk just as much as it mitigated it. However, Doctors are delving into research of alternative medicine as a cure for these diseases.
Irrespective of the different setbacks of science and technologies, the benefits still outweigh the negative impacts. Our hope still remains that scientists are not folding their hands, they are constantly trying to research and develop technologies that would offset the negative impacts of science and technology, thus making our country, Nigeria and indeed the whole world a better place to live in.
📢

We are hiring writers!
Article Writing Jobs
- We are hiring good freelance writers -
Click here to apply