Technology
Technological advancement in Nigeria so far as 2019
Here in this post, we are going to discuss at length the technological advancement in Nigeria so far as 2019. We hope you find this educating and informative.
Introduction
We are in the 4th industrial revolution, or some people may refer to it as the digital age or technology age. Our lives revolve around technology now.
Read Also: 15 Impact of Technology in Nigeria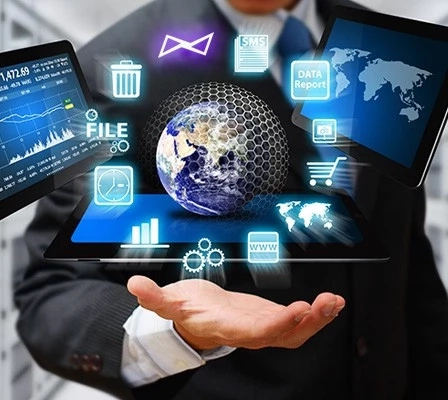 Technology has evolved our manual processes and automated them making lives easier and better. In Nigeria, technology has advanced with years and has revolutionized the agricultural, industrial, communication, transportation, educational, business and financial processes.
Nevertheless, Nigeria is still yet to develop and harness some of the world's best technology. This is as a result of lack of funding support from government in research and development, prominent amongst other things.
This article takes a deep dive into technological advancement in Nigeria from advent to recent times. It also highlights other technology that Nigeria should consider delving into and the problems of slow growth in technology in Nigeria.
Technological Advancements in Nigeria
Technology has permeated all the countries of the world. Stick with me and I would guide you through the various technological advancements in Nigeria especially in various sectors that affect human lives.
Read Also: 10 Importance of Technology in Nigeria
Technological Advancement in Agriculture in Nigeria
The advancement of technology in Nigeria has changed the face of agriculture in Nigeria. Different Farm machinery like tractors and ploughs has made our farm work easier and faster.
Storage facilities like silos and food processing machines have helped us to keep perishable products fresh. Irrigation helps to water the crops all year round in different places and in different seasons of the year.
Hence we moved from hoes and cutlasses to tractors and ploughs and also from majorly subsistence farming to large scale commercial agriculture.
Technology has enhanced agricultural machinery, genetically modified food, cloned sheep, organic fruits, artificial fruits, livestock farming, cattle breeding, cattle slaughter.
There has also been a rise in digitalized agricultural startups in Nigeria like Ewagric.ng, FarmCrowdy, Growsel, Thrive Agric, Releaf and many others.
These platforms use digital technology and solutions to empower farmers with technology- machinery, fertilizers and improved seeds or livestock to produce in large quantities, reach/connect investors in the agricultural market, who invest in the potential farm products and also help farmers to sell and process their produce and make a great return on investments.
Read Also: 10 Importance of Educational Technology in Nigeria
Technological Advancement in Finance and Businesses in Nigeria
From saving money on roofs and under the bed to a cashless economy, Technology has greatly disrupted and improved our financial system.
Banking in Nigeria as at the 80s and 90s was a manual process, where people go to the bank, stand in a queue, to save or pay bills.
Today, we can pay bills, recharge our mobile phones, transfer money from one person to another, same banks and different banks even make donations and manage investments from the comfort of our homes.
The advancement in technology in Nigeria's Manual Banking sector has evolved to Mobile banking, Automated Teller Machines (ATM), e-payments and fund transfer, online banking platforms, ICT integrated project banks as at 2019.
Prominent amongst the leading technologies are the FinTech (Financial Technology) and RegTech (Regulation Technology) platforms.
Now we here about interswitch, Renmoney Paystack, paga, Flutterwave and a host of others disrupting the financial world, collaborating with banks and other SaaS application development companies to launch innovative approaches to finance in Nigeria.
Businesses has also advanced in recent times, technology has enhanced the processing of farm produce to a more tradable Technological advancements have helped businesses and industries save time and cost of production. In Food industry, technology has enhanced the processing and packaging of different edible products for sale in both local and international markets.
Same with the clothing and textile industry, real estate and indeed all the manufacturing space. Coming down to the trading and distribution businesses, the 3G / 4G broadband and social network technology enable businesses to reach target markets with less costs of operation.
Initially. businesses advertised solely on TVs and Radio station, technology has enabled them to reach a wider audience with internet marketing tools, using little money to make great profitable gains. E-commerce has taken over the distribution tradechain in Nigeria.
Read Also: The Role of Technology in Education and Training in Nigeria
Technological Advancement in Communication and Transportation in Nigeria
Do you remember the times where we had to go to post office, buy stamps and wait for long months before a letter we sent to one of our uncles in Lagos would get to him and a reply sent back to us? The times where town criers did the broadcasting jobs.
Casting our minds back to those times and looking at the situation of things now would enable us to appreciate technological advancement in communication system in Nigeria.
Thanks to technology, in the 90s we were blessed with landlines for communication but landlines were expensive and both the sender and the receiver had to have one.
Also, Nigeria also had a broadcasting system like the radio and monochrome television which were only seen in luxury houses.
The internet and computers was also introduced into Nigeria in the early 2000s, after which we substituted post letters for emails.
Thereafter, we were blessed with GSM (Global System for Mobile Communication), portable devices for communication and since then there have been upgrading in communication devices.
Today, we have smart phones, smart watches, smart TVs, laptops, desktops, tablets, with advanced functionalities at affordable prices and simplistic user interface for the old and the young.
Internet technology has also brought about social networking sites and mobile applications- Facebook, Twitter, WhatsApp, Instagram, an online community where we share news, exchange messages and call friends and family in any part of the world, instantly.
Technology has also advanced our transport systems in Nigeria. It has enabled the construction of good road networks for automobiles, rail networks for trains and ships, ferries and speedboats for navigating the seas and inland waters.
Prior to today, we relied mostly on horses, camels and donkeys for traveling by land and canoes for water transport. Later on, the colonial masters introduced bicycles and ships and also enabled us to realize the value of crude oil as fuel.
Advancement in technology brought us to era of good transport systems we have today. Although, problems arising from motor vehicles emissions causing global warming and the frequency of accidents, we cannot see a life without the transport technology we have today.
Read Also: Promotion of Science and Technology Education in Nigeria
Technological Advancement in Education in Nigeria
Technology advancement has greatly changed the education sector in Nigeria. From chalkboard to smart whiteboards for visual illustration, the use of smartphones, tablets and mobile computers for education, and internet for long distance learning and use of social media to connect students with teachers and with their peers abroad. There are various educational databases and online courses available to all.
Technology has made education accessible, both in remote villages and large cities, rich and poor and the young and the old.
Technological Advancement in Health care in Nigeria
Health is wealth, the popular saying goes. Nigeria's health care delivery has seen great improvement due to technological advancements. In the 20th century, many deaths were recorded from little sickness e.g. malaria, fever, even sore throats.
There was no knowledge of immunization, vaccinations and natal care, giving rise to a great increase in maternal and child mortality.
Even when hospitals started to spring up, here and there, health care was so poor and only accessible in large cities. Sometimes, patients had to be referred to hospital abroad for surgeries.
Fast forward to 2019, advancements in technology has brought about developments of better drugs, vaccines, treatments accessible to all in Nigeria.
Today we have Ultrasound, Artificial wombs, IVF technologies, artificial insemination, incubation technology and Caesarean section has ease deliveries of healthy babies. Electrocardiograms, Photo-scan and X-ray technologies, Telemedicine, mhealth and Tele-monitoring technologies.
As at 2019, there are plethora of digital health startups.  SaferMom and Mobicure for child delivery care, Ubenwa, machine learning system, analyze the amplitude and frequency patterns infant cry, to provide an instant diagnosis. Medsafe and GenRx helps in providing better medications to patients.
KangPe and Hudibia applications eases access of patients to various doctors, who can speak in various dialects of the patients. Lifebank and Redbank finds safe blood for transfusion. Flying Doctors Nigeria for emergency and ambulance services and different Health Insurance and Research platforms.
Advanced Technologies yet to be explored in Nigeria
Internet of Things (IoT)- this technology connects virtually all devices and object to the internet by infusing machine readable codes in them.
Robotics– the fear of robots taking human jobs is making Nigerians to close their minds to robotic technology. These robotic technologies have great impact on industries and factories.
3D Printing– this entails printing objects through a transfer of image, specification or document of the object.
Renewable Energy: We are still yet to explore alternative ways of generating power apart from water and crude oil. Wind turbines, photovoltaic cells, concentrated solar power, geothermal energy, ocean wave power and other biotechnology innovations are yet to be explored.
Medical Innovations in gene editing, protein biomarker analysis for cancer screening, cell-free fetal DNA testing, are areas that Nigeria's health care can delve into.
Artificial Intelligence– this technology builds adaptive machines that learn quickly from people, environment and problem-solving scenarios.
High-Speed Travel: Elon Musk, the founder of the Hyperloop, is working on this project. This technology is set on solving long-distance transport issues and reduce rural-urban migration.
Blockchain Technology – This distributed ledger technology provides a record of transactions and confirmations of cryptocurrencies. This technology would greatly impact on Nigeria's finance.
Autonomous Vehicles– This technology is concerned with self-driven motors vehicles, cycles and drones using advanced sensors and other machine communication.
Advanced Virtual Reality: Virtual Reality already exists in games and movies. However, advanced virtual reality-enhanced their memories or even mental wellbeing.
Space Colonization: Nigeria is not doing much as regards to space technologies. Space colonization entails human beings occupying gigantic spacecraft or other planets and moons.
Read Also: How to Improve Research Writing With Technology
Problems of slow growth of technology in Nigeria
There are a lot of problems slowing the growth rate of technology in Nigeria over the years. Nigerian Government does not value research and development as well as technology as much as they should. So little or no investments are made as regards to this.
Another issue hindering technological advancement in Nigeria especially in the production aspect is the fact that most Nigerians prefer exported products to locally produced ones.
Also the cost of operating a technological-based company is very high, so most organization are rather unwilling to tap into this space. Technology requires transparency.
With the growing rate of corruption in Nigeria, this inhibits the advancement of technology in Nigeria. Also, cases of brain drain and lack of skilled manpower affect technological advancement in Nigeria.
Conclusion
There you have it, the world has gone digital and many modern technologies are fast becoming obsolete. Nevertheless, we can't linger on our limitations but continue to appreciate the technologies available in Nigeria now while keeping our fingers crossed and equipping ourselves with relevant skills for disruptive technologies yet to come.
Click here to see the latest
Study Abroad Scholarships and Guides
Click here to see the latest
Jobs opportunities in Nigeria
.
Click here to Join
Recharge and Get Paid
Click here to Read Latest School News in Nigeria
Copyright Warning!
We work really hard and put a lot of effort and resources into our content, providing our readers with plagiarism-free articles, original and high-quality texts. Contents on this website may not be copied, republished, reproduced, redistributed either in whole or in part without due permission or acknowledgement.
Proper acknowledgement include, but not limited to (a) Proper referencing in the case of usage in research, magazine, brochure, or academic purposes, (b)"FAIR USE" in the case of re-publication on online media. About possible consequences you can read here: What are the consequences of copyright infringement? In an effort to protect our intellectual properties, we may report your website to Google without prior notice and your website be removed from search engines and you may receive a strike. All contents are protected by the Digital Millennium Copyright Act 1996 (DMCA).