Education
The Role of Technology in Education and Training in Nigeria
Here in this post, we are going to discuss the role of technology in education and training in Nigeria. We hope you find this informative.
It is no doubt that technology has come to stay and today we are reaping its numerous benefits in all aspects of life from domestic activities to complex problem-solving activities.
In all processes, it has added a lot of value to living processes. One significant area technology has penetrated deeply and revolutionized is the indispensable field of learning- Education and Training.
Read Also: How to Improve Technology In Nigeria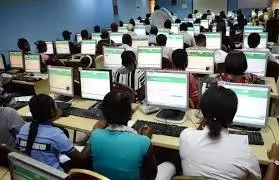 Let us be truthful to ourselves, can you imagine education without technology in Nigeria? If you can, let me take you back to those days where we sat on the floor, under a tree with slates and chalk, listening to outdated lessons from "Teacher Chike"- Can you imagine that kind of life?
Those days where there was no hope for parents and adults as well as those with special needs- the handicapped ones to access education.
Fast forward to today, where there is an era for personalized learning for all with different needs, through the invention of different educational technologies.
A huge gap has been filled, plenty of problems have been solved and more developments are yet to come, as we have not fully embraced all the aspects of technology in education process in Nigeria.
In this article, lend me your eyes, and I will grip you with my words and walk you through the various roles technology has played in the Education and Training of the good citizen of Nigeria.
Read Also: How to Improve Research Writing With Technology
History of technology in Education and Training in Nigeria
Although training in different skills has been on from right since the stone ages, Western Education was introduced into Nigeria in the 1840s.
The Christian Missionaries landed on our shores with good tidings of reading and writing, opening schools in cities and villages in every corners of the country.
Today, there are many primary, secondary and tertiary institutions of learning in Nigeria. However, the most significant technology in educational process was the legendary typewriter.
Many of us had to struggle to pass type-writing exams in Junior Secondary Certificate Examination Secondary, just for the type writers to go on extinct later on as computers took over the typing space.
Although computer science was taught in schools, it was only the basics of word processing, the use of the internet and other computer based concepts.
Computer and other information technology married Education to give birth to Educational technology, otherwise called EdTech or Computer Aided Learning.
EdTech is a modern education system that enhances performance and facilitates learning process through technology.
Educational technology in Nigeria started from the use of simple instructional materials like abacus and educational posters of fruits, letters, parts of the body.
It was in 1932, under colonial Britain, The Federal Radio Corporation of Nigeria was founded named the Radio Diffusion Service (RDS) as at then. This brought a lot of milestone developments in media and technology in Nigeria that virtually permeated all sectors.
In Nigeria, many private schools are now adopting technology in classrooms, improving learning experience for both students and teachers.
Government also equipped some schools with computers. Thanks to telecommunications and Internet technology, we all now have access to learning materials on the web and communicate with colleagues outside the country, distance learning has been great facilitated and research articles are available for use anytime and can be downloaded via various internet enabled devices.
Hence we gradually evolved from slates to notebooks to desktop and to portable devices like laptop, tablet, IPad and the likes.
Read Also: Relationships Between Science And Technology
Roles of technology in education and training
1. Personalized learning
Technology has revamped the educational system from the generic system of group learning to a more individualized learning.
This has proven to be more effective especially with people with disabilities e.g. autism, blindness and other physical and mental disorders.
Also individuals can learn anything and train themselves on different skillset on search engines "just ask Google", electronic databases and social networking sites e.g. YouTube, Pin it, Reddit, etc.
2. Enhanced Research
Technology provides researchers with evidence for the dissemination of research report and findings. The internet houses a whole lot of articles on every works of life and thereby facilitates research. News on recent development in every field of study is published on the web
3. Enhanced School Administration
Yes! Technology has made a lot of school work more efficient and faster. Now, student records are saved in databases, with ease of retrieval; computation of examination results are faster in terms of minutes as compared to donkey years and months we had to wait in ancient times, student registration and payment processes are now done as quickly as possible. Mails are readily delivered on the go through emails and instant messaging.
Lecture notes and study materials are planned effectively with the use of the internet capturing recent developments and information.
Even CBT examinations are gradually taking over the paper-based ones and are proving to be more effective with minimal issues of malpractice and impersonations. You can see that school administration has become more effective in recent times.
4. Removal of Physical Barriers

It is said that the internet has made the world a global village. Technology has enabled unrestricted access to valuable educational resources that can be accessed from anywhere in the world.
Thanks to satellite and telecommunication technology, the thick walls of financial and geographical restrictions have been broken down.
With little or no charges, one can be trained and equipped with all types knowledge in any field, from any part of the world.
Read Also: 7 Roles of Educational Technology in Nigerian University Education
5. Enhanced Communication and Forming Learning Communities
Sequel to the removal of physical barriers is the better-enhanced communication activities among students, teachers and institutions from any part of the world.
Technology creates opportunities for the institutions to communicate with one another through e-mail, mailing list, chat room and so on.
Students and researchers also form learning communities online where ideas are shared and debated upon. This also provides a forum to learn cultures of different peoples of the world.
6. Distance Learning
This is one significant role of technology in education. One cannot overemphasize the importance of distance learning.
Distant learning is an instance where one can learn or be trained from an institution that is not within his/her locality. With the advent of technology in educational processes, distance learning has been made possible in all part of the world, enabling individuals to acquire skills and knowledge and get certifications from various institutions of the world. There is a great variety of online adult education, online masters, online training hosted by different institutions.
7. Visualization of content
Through Technology, one is able to have a more hands-on approach to learning experience. Using multimedia technology and simulations, content is easily understood and practiced than merely reading lecture notes. Webinars and Videos are great visual educational tools.
Database Development: Technology has brought about easier access to more extensive and current information through electronic databases.
Learning materials are stored in online and offline databases like TEEAL, AGORA, HINARI, OARE. Staff and Students' records are also stored on the school's database.
8. Knowledge Management
Knowledge Management is the act of creating, acquiring, processing, preserving, storing, retrieving, disseminating and evaluating knowledge in a field of study or organization. Through database technology, no knowledge is effectively managed and sensitized to all party in the right manner.
9. Professional Development
With the advantage of distance learning and research, professional advancement is made possible for both students and teachers.
Technology enables various means of learning to improve financial status or maintain professional credentials, conferences, and formal and informal trainings in an intensive and collaborative environment.
Read Also: History of Technology in Nigeria
10. Value-added learning experience
Finally, technology has revamped our educational system in Nigeria, changing learning content, methods, and the general quality and quantity of education and trainings in Nigeria.
Technology has brought about Educational Pedagogy, a recent and vast field in education which deals with the theory and practice of education and how it enables learners' growth and development, which has been inculcated into teacher education and training, thus improving our system of education
This post can be helpful to somebody else, please share it on Facebook, Whatsapp, Telegram and Twitter. There are buttons below for this (easy to use too)!
Copyright Warning!
Contents on this website may not be republished, reproduced, redistributed either in whole or in part without due permission or acknowledgment.

.
Proper acknowledgment includes, but not limited to (a) LINK BACK TO THE ARTICLE in the case of re-publication on online media, (b) Proper referencing in the case of usage in research, magazine, brochure, or academic purposes,.

.
All contents are protected by the Digital Millennium Copyright Act 1996 (DMCA).

.
We publish all contents with good intentions. If you own this content & believe your copyright was violated or infringed, please contact us at [infoguidenigeria@gmail.com] to file a complaint and we will take necessary actions immediately.
🤑 Start making money from home today!
👉 Get correct FREE TIPS and Guides on how to make money from home today. Click here to start
.
👍Advertise your business here!
With over 1M unique users per month across all channels, we have a large audience for you to showcase your products and services. Simply get in touch via 👉 marketing@Infoguidenigeria.com.
🤑 Make Money now!
👉 Make money writing for us. Apply for Freelance writing jobs in Nigeria.
👉 Make Money as InfoGuideNigeria Advertising Agents, read more here
.