Agriculture
9 Problems Affecting Commercial Plantain Farming In Nigeria
Plantain is food crop which belongs to the family Musaceae and the genus Musa. The major species are Musa paradisca (French plantain), Musa acuminata (Gross Michel and Cavendish) and Musa corniculata (Horn plantain).
Plantain is known to generally do well in tropical and subtropical climes, hence the reason why it is likely to thrive in any region of the country as long as it is planted in good soil.
Plantain is a very popular plant which is grown and consumed as a staple food in 52 countries worldwide. According to the Food and Agriculture Organization (FAO) report in 1987.
World production of plantain was estimated at 25 million tonnes with 19.6 million tonnes of the total world production rate produced in Africa. Latin America was listed as the second place producer at 4.1 million tonnes.
Read Also: How To Start Onions Farming In Nigeria; A Complete Guide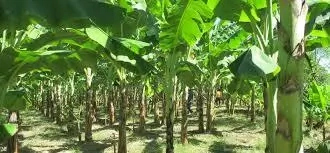 According to the Raw Materials Research and Development Council (RMRDC) 2002,  Publication , the annual production in Nigeria is 1,855,000 metric tones and majority of these plantains are produced in large quantities in Edo, Delta, Ogun, Osun and Ondo states.
Other plantain producing states are Rivers State, Cross River, Imo, Anambra, Lagos, Kwara, Benue, Plateau, Kogi, Abia and Enugu.
In Nigeria and Africa generally, plantain is regarded as an important staple crop, and it is a major source of carbohydrates for people of sub-Saharan Africa.
In Nigeria, plantain is roasted or boiled. When boiled, it is either consumed alone, taken with red oil, vegetable soup or it can also be mixed with other food like beans.
Plantain when ripe is also fried, this is known as "dodo". It is also used to make porridge or used to make flour. The unripe or slightly ripened plantain can be fried in vegetable oil to obtain plantain chips.
These chips are cheap and are produced by majorly small and medium scale companies to be delivered directly to the retail market.
The demand for plantain has increased tremendously in the last decade due to the rapidly increasing urban population and its great demand for easy and convenient foods.
Also responsible for these increase is the emergence of a number of local processing industries that further process plantain to flour, bread, cakes, biscuits and so on.
This increase in demand has made a lot of investors take up this business opportunity, which personally I don't think is a bad idea as I have advised a host of people with enough capital to venture into this business.
One thing I easily observed is that in the rush and excitement of establishing a commercial plantain farm which we are so sure will succeed, we fail to analyze and proper solutions to problems we may likely come across, thereby arming them with tools to haunt us later, which can have a very devastating effect.
In that regards, I have decided to put up this post to enlighten prospective investors with an idea of the kind of problem they are likely to face in this Agribusiness. Below are a list of some of this problems.
Read Also: Steps To Start Garden Egg Farming Business In Nigeria And Tips To Succeed
1. Transportation and Distribution
One of the problems that affect commercial production of plantain in Nigeria is the distribution and transportation of the farm produce to the market.
High cost of transportation and bad roads have affected the movement and distribution of plantain to major markets in the city where the demand for plantain is high.
Another problem here is the method at which the product is transported. Normally in Nigeria, plantain transportation is by road, usually in open or partially closed vehicles.
The harvested fruits are stacked in bunches without any form of protection throughout the rigorous journey from the farm to the markets.
The rough handling inherent in this system of transportation is known to greatly reduce the quality of the fruits even before they reach buyers.
2. Labour
Since plantain are planted at the beginning of the rainy season, which is almost the same time for planting other crops, getting labour for a large farm at that time is usually difficult and in cases where labour is gotten, it is usually for a higher price.
In farm's situated in rural areas, getting mechanized forms of labour is also a serious problem for plantain farmers, so it is expected that a solid arrangement is made even before the planting season commence.
Read Also: 8 Steps To Start Commercial Orange Farming Business In Nigeria
3. Storage
Plantain has a very low shelf life due to the fact that it is easily affected by environmental factors, such as temperature, relative humidity and air composition.
Therefore, farmers in the country normally contend with a significant amount of wastage due to the unavailability of adequate storage systems.
Therefore, intending plantain farmers are advised to either get a sufficient storage facility for their farm product or device an efficient distribution method to get the product to buyers as soon as possible.
4. Agricultural Practices
Most plantain farmers and intending farmers usually follow the cultural practices of the crop which has been in use for more than 20 years.
It is important that farmers make research and seek expert opinion and advice as well as make enquiries concerning the latest and most productive cultural practice applicable.
5. Land
For any agribusiness, getting land usually poses a tricky problem to the entrepreneur especially in this case where nothing less than a hectare is required for a start. In the urban centres, adequate land is usually expensive and difficult to come by.
Read Also: Cassava Farming Business; How To Start And Be Successful
6. Finance
Most plantain farmers usually suffer lack of funds for maintenance of the farm once they have started already. This is usually due to lack of proper planning.
It is important to always draw a maintenance plan and set aside adequate fund for this operation as it is very crucial to the quality of crops that will be produced. Interested entrepreneurs are implored to make proper planning before commencing any form of farm operations.
7. Marketing
Due to the high perishability of this crop, marketing large quantity of the crop after harvest is always difficult. Any waste in time will result to waste of crops so it is important that buyers are readily available even before harvest, it is also important that a means of transporting the products to buyers is also on standby.
8. Government Policy
Despite the massive rate of production, the government's lack of export policy on plantain has made it only a crop for the local market, thereby discouraging large scale investors.
Also, lack of agricultural grants and extension services have also discouraged farmers and entrepreneurs who are willing to partake in this agribusiness.
The government have also not done enough in terms of sponsored research programs that will boost every area of plantain production.
Basic amenities like water, good road and electricity to aid the transportation, storage and processing of this crop are also lacking.
Read Also: 6 Steps To Start Layer Poultry Farming In Nigeria
9. Pest and Diseases
Black leaf streak and banana weevils (Cosmopolites sordidus) are the major disease and pest affecting plantain production in Nigeria.
Banana weevils cause snapping of fruit bearing plants. Although, the introduction of several pest resistant cultivars and better cultural practices seems to have drastically reduced its occurrence.
Information is Power!
Don't miss any valuable information or opportunity that can change your life, business, and family positively and permanently.
👇👇👇👇👇
For Latest updates on News, Jobs & Business Ideas, and Opportunities.
Copyright Warning!
Contents on this website may not be republished, reproduced, or redistributed either in whole or in part without due permission or acknowledgment.
.
Proper acknowledgment includes, but not limited to (a) LINK BACK TO THE ARTICLE in the case of re-publication on online media, (b) Proper referencing in the case of usage in research, magazine, brochure, or academic purposes,.
.
All contents are protected by the Digital Millennium Copyright Act 1996 (DMCA).
.
The images, except where otherwise indicated, are taken directly from the web, if some images were inserted by mistake violating the copyright, please contact the administrator for immediate removal.
.
We publish all content with good intentions. If you own this content & believe your copyright was violated or infringed, please contact us at [infoguidenigeria@gmail.com] for immediate removal.
🤑 Start Making Money from home today!
👉 Get the correct
FREE FOOTBALL PREDICTION
TIPS
and
Guides
today.
Click here
.
👍Advertise your business here!
With over 1M unique users per month across all channels, we have a large audience for you to showcase your products and services. Simply get in touch via 👉 marketing@Infoguidenigeria.com.
🤑 Make Money now!
👉 Make money writing for us. Apply for Freelance writing jobs in Nigeria.
👉 Make Money as InfoGuideNigeria Advertising Agents, read more here
.