The skin bleaching pandemic in Nigeria has been on an all time high in the last 10 years. Skin bleaching products have become one of the most procured cosmetics in Nigeria as the government have only done little to curb its unregulated sales.
Skin bleaching involves using creams which contains chemical products that are capable of whitening the skin. This chemicals work by inhibiting the release of melanin, a dark pigment responsible for giving the skin its natural color.
When the release of this pigment is hindered, its effectiveness in giving the skin it's dark color is reduced and skin whitening can be achieved.
Although, this comes with a lot of consequences, most Nigerians that indulge in this act are not bulged or
discouraged.
Read Also: How To Produce Body Cream In Nigeria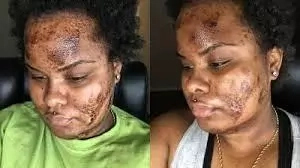 According to a World Health Organization (WHO) statistic, 77 per cent of Nigerian women use skin-lightening products. This statictic showed that Nigeria has the highest number of users of skin-lightening products.
Even a number of Nigerians who are quite educated and fully know the implications of this self destructive act still indulge in it.
The number of people involved are currently on the increase and obviously seems to care less about the consequences involved.
Since the government isn't enforcing restrictions on the reckless sales of this skin bleaching products. All we can do is sensitize the public, by letting them know the dangers they are being exposed to every time they use these products.
Read Also: Qualities Required Of Beauty Queens in Pageantry Show in Nigeria
Why do people bleach ?
The major reasons why Nigerians engage in skin bleaching are quest for beauty, low self esteem and peer pressure. Both male and females are involved in this, but it has been noted to be more prevalent in females. This pandemic cuts across every religion, tribe, age, gender, marital and socioeconomic status.
Bleaching creams composition
Most people that engage in skin bleaching use creams that contain harmful chemical elements like mercury, hydroquinone, niacinamide, topical retinoids, and steroids among others.
The most popular bleaching creams and products available in Nigeria usually contain one of this chemicals. In some of the products, the composition is honestly labelled while some are not honest, so it is better to stop any cream that whitens your skin.
And also never forget to check the composition of any cream you wish to purchase as this chemicals can be harmful in the long run. Below are health hazards posed by their use;
-Mercury: This is a very dangerous chemical metal found in the skin lightening creams. Mecury can damage the kidneys and the nervous system.
An abnormally high levels of mercury in the body can lead to irritability, headaches, difficulty concentrating, memory loss, numbness, tingling in the hands, feet and lips, insomnia, depression and weight loss.
Read Also: How To Make Body Lotion In Nigeria
Hydroquinone
This chemical is used to treat skin discoloration. Studies have shown that this chemical is carcinogenic when used in the long term.
Aside that, it is also cytotoxic (cell toxicity). These are both life threatening conditions which can be simply avoided by boycotting these products.
Other harmful effects of hydroquinone are reddish skin, dry and leathery skin, dermatitis, pigment cells damage and increase sensitivity to sunlight.
Steroids
Steroids (topical corticosteroids) such as clobetasolpropionate and betamethasonedipropionate are very popular skin bleaching agents sold recklessly within the country.
They are usually sold in tubes and gels. Due to it's harmful effects when misused, they are prohibited in cosmetics. They can cause skin thinning, stretch marks, bruising and broken veins.
Eczema, psoriasis and acne can all flare up and there is an increased risk of skin infection, sores and boils. Studies have shown that this chemical possesses a carcinogenic effect when used for prolonged periods.
Harmful effects
Skin bleaching comes with serious health consequences, a lot of people ignore these warnings because the consequences don't develop instantly.
It developes over a period of time, and for that reason they choose to disregard the warnings. Some of these harmful health conditions caused by the use of skin bleaching products are:
1. Cancer
Studies have shown that one of the contents of most bleaching creams in Nigeria, hydroquinone can cause cancer when used for a long time.
The common types of cancer a user is being exposed to is the leukaemia (a life threatening cancer of the blood), cancer of the liver and kidney. Hydroqinone is also noted to cause cell mutation as well.
Read Also: How To Produce Bathing Soap In Nigeria
2. Vulnerability to skin infection
The use of skin bleaching products especially steroids can cause intense skin irritation, redness of the skin, skin atrophy which causes the top layer of the skin to peel off due to severe dryness. This dryness also leads to breaking of the skin, leaving a user vulnerable to fungal and bacterial infections.
3. Vulnerability to injury
Due to the skin stretching and thinning causes by the use of these products, healing of injuries in users are prolonged and impaired.
Skin thinning also leads to vein exposure and difficulty to perform clinical suture during injuries or surgery. It can also cause permanent stretch marks.
4. Renal damage
This is peculiar to skin whitening products containing mercury. Long term accumulation of mercury can lead to a potential life threatening renal damage. This happens when mercury level in the body reaches levels above that which the body can tolerate.
Read Also: Steps To Start Diaper Business In Nigeria And Tips To Succeed
5. Liver damage
Skin bleaching creams that contains hydroqinone are very harmful to the liver as studies have shown that hydroquinone is toxic to the liver and has the ability to cause some life threatening liver disease over a long-term use.
6. Thyroid disorder
The use of skin bleaching products with mercury can lead to a thyroid disease known as hypothyroidism. This is because mercury interferes with the minerals necessary for the thyroid hormone production.
7. Birth defects
Many expectant mothers who are users of these skin bleaching products are at risk of having children with health defects at birth.
Studies have shown that users of skin bleaching products that contain mercury during pregnancy gave birth to children with poorly developed brains (encephalopathy). This is as a result of mercury's interference with brain development of the foetus.
8. Triggers diabetes
This occurs when the body produces excessive amount of a hormone known as cortisol. Excessive production of cortisol hormone can be caused by use of skin bleaching creams containing steroids.
The high levels of cortisol hormone in the body can lead to a condition known as Cushing syndrome. Cushing syndrome can in turn lead to high blood pressure and type 2 diabetes.
9. Nerve damage
Another consequence of the long term use of mercury containing bleaching products is its ability to cause peripheral neuropathy.
A condition where the peripheral nervous system, which send information from the brain and spinal cord to the other parts of the body is damaged.
Read Also: How To Package Liquid Soap In Nigeria
Possible Solutions
Lightening creams are not effectively regulated in Nigeria where even roadside vendors sell tubes and plastic bags of powders and ointments from cardboard boxes stacked along sidewalks in market districts. Many of the tubes are unlabelled as to their actual ingredients.
The Ministry of health and every other relevant organisations should as a matter of urgency launch vigorous public campaigns and enlightenment programs to inform the public of the harmful effectS of these products.
The government should also sponsor useful research in this area and also provide statistics of death and life threatening diseases that has been caused by skin bleaching products are not on record. There data will help sensitize headstrong Nigerians who still patronize these harmful products.
Reference: 
https://www.biologyonline.com/articles/skin-creams-make-skin-drier
🤑 Start making money from home today!
👉 Get correct FREE TIPS and Guides on how to make money from home today. Click here to start
.
👍Showcase your business here!
With over 1M unique users per month across all channels, we have a large audience for you to showcase your products and services. Simply get in touch via 👉 marketing@Infoguidenigeria.com.
🤑 Make Money now!
👉 Make money writing for us. Apply for Freelance writing jobs in Nigeria.
👉 Make Money as InfoGuideNigeria Advertising Agents, read more here
✍️ Be Our Guest Publisher!
Do you have a press release, breaking news,  or any other helpful information to share with our growing readers? If yes, send your article to 👉 infoguidepr@gmail.com.
We will be glad to publish it if the information is useful to our audience.
.
This post can be helpful to somebody else, please share it on Facebook, Whatsapp, Telegram and Twitter. There are buttons below for this (easy to use too)!
Copyright Warning!
Contents on this website may not be republished, reproduced, redistributed either in whole or in part without due permission or acknowledgment.
.
Proper acknowledgment includes, but not limited to (a) LINK BACK TO THE ARTICLE in the case of re-publication on online media, (b) Proper referencing in the case of usage in research, magazine, brochure, or academic purposes,.
.
All contents are protected by the Digital Millennium Copyright Act 1996 (DMCA).
.
We publish all contents with good intentions. If you own this content & believe your copyright was violated or infringed, please contact us at [infoguidenigeria@gmail.com] to file a complaint and we will take necessary actions immediately.