Health
The Nursing Profession In Nigeria; Problems And Prospects
Nursing may be defined as a process by which a patient is helped by a nurse to recover from an illness or injury. A nurse plays an integral part in a patient's recovery because they offer understanding, care and emotional support which are all critical to the patient's survival. So in simple terms, a person who cares for the sick, injured and aged is called a nurse.
It is difficult to narrate the history of nursing and not mention Florence Nightingale. Florence with a group of 38 nurses reorganized the military hospital at Scutari, a suburb of Constantinople, during the Crimean war.
She laid a great foundation for nursing, her services resulted in a complete change in the Nursing profession and led to the beginning of professional nursing.
Read Also: Advanced Treatments For Pituitary Gland Tumors In India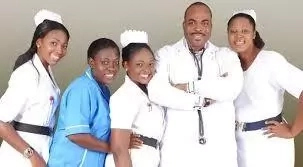 Due to Nightingale's influence and enviable achievements, the first school for training nurses was established in 1836 by Parker Theoder Fliedner.
In 1882, the first movement for the recognition and registration of nurses was formed. In 1893 the international council of nurses was established with headquarters in Geneva, Switzerland. Today nurses makes up what is considered to be the largest professional group in our healthcare system.
History of Nursing In Nigeria
Though traditional form of nursing and midwifery have existed even before the arrival of the colonialists. Formal and modern nursing was introduced by the colonial masters. The first nursing home in Nigeria was established in Jericho, Ibadan by the British colonial government.
Nursing was later fully established in Nigeria when missionaries established mission homes, Dispensaries e.t.c. and commenced training of nurses in Nigeria and in 1949, the School of Nursing at Eleyele, Ibadan was established.
In 1949, the Nursing Council of Nigeria was established to set standards for nursing in Nigeria. ln 1952, the University College Hospital Ibadan started training of nurses as well.
By 1965, a Department of Nursing established in the University of Ibadan to commence a degree programme in Nursing.
Other universities like the University of Ife and University of Nigeria, Enugu also started a degree program in 1973. Presently almost every state in Nigeria has one or more school of nursing.
Read Also: 10 Problems Of Nigeria Health Sector
Problems of Nursing in Nigeria
1. Lack of motivation
Most of our nurses lack the motivation needed for this work. Before a nurse can properly save the life of a patient, he or she needs to be happy with her own life.
Most Nigerian nurses work in very hostile environments where a lot of naive doctors see them as just maids useful for running errands.
This stereotype has eaten so deep into the minds of the average Nigerian so much that we believe a nurse should be female and females are expected to be submissive to a man at all time.
A nurse always looked down upon by a doctor would never be motivated enough for her job and this will have a negative effect on the patient's life.
2. Lack of equipment and facilities
Most of our hospitals lack necessary equipment and facilities to help the nurses perform their job effectively. A lot of hospitals, including the government hospitals and even private are under-stocked.
This directly affects a nurse's efficiency as he or she is always looking for improvised solutions to the problems presented by lack of necessary equipment and facilities.
Read Also: Problems And Prospects Of Public Health Care In Nigeria
3. Indolence
I have had nasty experiences with rude and unfriendly nurses, I know you all have too. Some nurses display high levels of lackadaisical behavior towards work.
A nurse should be nice, caring and friendly. But the reverse is often the case in many hospitals across the country. Some nurses are usually very harsh and unfriendly towards patients, some are a even unwilling to attend to patients, leaving the patients in more agony.
This crop of bad nurses are typically late to work, not dedicated and above all lack the natural qualities of a nurse. They give nurses and the nursing professional a bad image and therefore, I consider this a major problem affecting the nursing profession within the country.
4. Shortage of nurses
A lot of men shy away from this profession, believing it's a woman's thing while a lot of women are beginning to shy away from the profession because they feel nurses are always disrespected by the doctors.
This shortage of nurses have caused the country to lag behind seriously, not being able to meet up with the ideal nurse to patient ratio.
Read Also: 12 Tips To A Healthy Weight Loss

5. Low remuneration
The wages of a nurse is not regulated by any body or association in Nigeria, thus leaving the nurses open to exploitation by their employers.
Nurses are seriously underpaid, those that are in the private health sector suffer worse fate, they are usually underpaid and overworked.
Those in the public health sector are also not left out, salaries are not paid as at when due and sometimes they are forced to take percentages of their normal take home. This has had a negative effect on their service delivery.
6. Hostile working environment
A lot of nurses are always down cast once it is time for work, this is because they work in very hostile environments where a naive doctor has virtually turned them to maids who are only useful at running errands. Some nurses have also reported abuse from patients as well.
7. Risk of infection
Some nurses fear the fact that they are highly exposed to the risk of contracting an infection. Even with the preventive methods available, they are always withdrawn when it comes to caring for patients with serious health problems, thus leaving the patient in agony and dejection.
Read Also: 11 Functions Of The Federal Ministry Of Health, Nigeria
8. Politics and favoritism
Politics, favoritism and tribalism are also some problems that affects nursing in Nigeria. The right candidates for a nursing job are sometimes overlooked because of his or her political class or cultural affiliation. The unqualified are employed and they go on to deliver poor services as well as exhibiting high levels of quackery.
9. Rural urban migration
Another problem is the urban migration of nurses. A lot of nurses don't want to work in the rural areas due to the poor standard of living when compared to the urban areas. This leaves the rural areas with inadequate nursing care.
10. Lack of periodic training
Seminars, workshops and some other forms of periodic training aimed at sensitizing, training and informing the nurses of modern nursing practices are seldom conducted leaving the nurses tied on outdated methods.
What Are The Possible Solutions To These Problems?
1. The doctors and the general public should be sensitized on the importance of nurses to our health care system.
2. A special body or agency should be established to handle and prosecute cases of abuse on nurses by doctors or patients.
Read Also: 19 Ways to Achieve and Maintain a Healthy Life
3. To curb indolence in the profession, nurses should undergo a form of behavioural enhancement program during training to help refine their behavior.
4. A more attractive remuneration package and a conducive working environment should be provided by the government to attract more people into this honorable profession.
5. Compulsory workshops, seminars and training intended at exposing nurses to modern trends should be conducted regularly.
Buy and Sell Bitcoin in Nigeria - Register for free on Luno
Click here to see the latest
Study Abroad Scholarships and Guides
Click here to see the latest
Jobs opportunities in Nigeria
.
Copyright Warning!
We work really hard and put a lot of effort and resources into our content, providing our readers with plagiarism-free articles, original and high-quality texts. Contents on this website may not be copied, republished, reproduced, redistributed either in whole or in part without due permission or acknowledgement.
Proper acknowledgement include, but not limited to (a) Proper referencing in the case of usage in research, magazine, brochure, or academic purposes, (b)"FAIR USE" in the case of re-publication on online media. About possible consequences you can read here: What are the consequences of copyright infringement? In an effort to protect our intellectual properties, we may report your website to Google without prior notice and your website be removed from search engines and you may receive a strike. All contents are protected by the Digital Millennium Copyright Act 1996 (DMCA).