Directory
Process Of Making Salt From Seawater
We are going to bring to you information on the process of making salt from seawater. We hope you find this article rich in information that you need.
Salt is an essential commodity to every household as it is used daily for cooking and in the preservation of food and also have health benefits to humans. It is one of the common mineral resources in Nigeria and can be found in large deposits in the eastern part of the country.
Salt can be obtained from rock salt and brine but this article is aimed at showing you the process by which salt is made from seawater.
Read Also: Where To Buy Sea Salt In Nigeria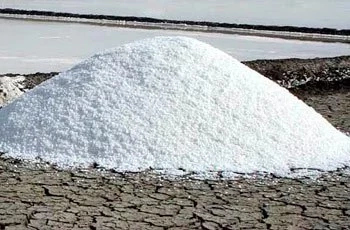 Salt is naturally produced when shallow ponds and bays dry up in the sun and the wind and large salt crystals are left behind where salt water once was.
Seawater or brine is water containing a high concentration of salt. The most obvious source of seawater is the ocean but it can also be obtained from salty lakes such as the Dead Sea and from underground pools of salt water.
Seawater is collected in small ponds and the water is left to evaporate in the sun. The product left behind after all the water is gone is sea salt. This process can only work best in areas where there is a high concentration of sun and very little rain.
The salt produced by the evaporation of seawater is called sea salt. It is also known as bay salt, solar salt or salt.
Read Also: How Much Is A Bag Of Salt In Nigeria 2019
Process Of Making Salt From Seawater
The following are the steps involved in making salt from seawater.
1. Gather a considerable amount of seawater in clean soda bottles or milk jugs. It is essential to take salt water from a clean source because a polluted area might affect the quality and taste of the salt.
Note: water rich in salt is gathered from salt-rich seas or salt ponds. Saltwater gotten from the ocean might not provide the quality salt you want because of the low salinity of the water. The more seawater you take, the more salt that you would get.
2. After taking the seawater, pour it into a larger steel pan and leave the seawater for a while so that the insoluble impurities such as sand or clay would settle to the bottom.
It is necessary to remove the sediments and particles from the salt water before you can harvest the salt. Get a large pot and pour the salt water into it through cheesecloth in other to strain the salt water to remove the impurities. To be sure that the impurities present in the seawater are completely removed, strain the water several times and by doing this, the salt content won't be affected.
Read Also: Where to Buy Rock Salt in Nigeria
3. To be able to get the salt from the seawater is for you to boil it. After straining the salt water, bring to the boil and make sure you boil until 90% of the water is evaporated. To know that you are through with boiling, the salt must be like wet sand.
4. After boiling, remove the damp salt from the pot and place it on a bowl or a shallow baking pan. Let it sit in the sun so that all the water evaporates. This process takes a long time of about several weeks.
5. Harvest the salt that is left behind when all the water has evaporated. Use a spoon to scoop the salt into a container. You will notice that the salt crystals will begin to form different shapes and sizes.
6. You may choose to grind the salt into a finer texture. For this purpose, you can use a salt grinder.
7. Now your salt is ready and can be used for cooking or preservation of food or whatever purpose you intend to use the salt for.
The steps listed above is how to make salt from seawater and it can be done at home but might incur a lot of stress because of the time involved in drying the salt.
Salt extracted from seawater can be used for seasoning foods, cooking food, making cosmetics and also for preserving food. It might not have high health benefits like rock salt or that of a refined salt but it can still be used for the same purpose.
Salt intended for human consumption must be much purer and that is why you must collect seawater from a very clean and safe source and not a polluted area as the end product you may get might not be edible for consumption.
Read Also: 9 Steps to Produce Salt in Nigeria
The salt intended for food processing should be very pure containing as much as 99.99% sodium chloride before additives are added. Sea salt contains this sodium chloride and also have a little amount of iodine which is essential to human health.
Salt got from seawater which is made with the simplest and oldest method of processing salt that is the evaporation method have the same uses with the other kinds of salt. It can be used for household cleaning and in the production of soaps and detergents.
Salt is also used for religious, cultural and traditional purpose and sea salt can be used for spiritual purposes as it is believed that salt can ward off evil spirit.
The importance of salt cannot be overemphasized as it has a long historical background on its use and benefits and how countries fought because of it.
In Nigeria, there is nobody that does not know what salt is and having an idea of how it is made can be great. Earlier in the article, I mentioned that salt can be obtained from rock salt and brine but this article is about how to make salt from seawater. If you think that this process is kind of long, you can result in buying refined salt.
But there are still people who like to locally make their own things and salt is not an exception. It can save them the money that would be spent on purchasing salt in the market.
Read Also: Top Locations Where Salt Is Found In Nigeria
Conclusion
Salt is surely a necessity when it comes to ingredients needed for cooking and as such, it is very important. I hope this article is helpful enough by giving you an insight into the process of making salt from seawater.
👍Advertise your business on InfoGuideNigeria.com!
From just N4,999 per month, you can advertise your products and services to over 1,500,000 users on our website. Click here to read more.
👇👇👇👇👇
Information is Power!
Don't miss any valuable information or opportunity that can change your life, business, and family positively and permanently.
👇👇👇👇👇
For Latest updates on News, Jobs & Business Ideas, and Opportunities.
Copyright Warning!
Contents on this website may not be republished, reproduced, or redistributed either in whole or in part without due permission or acknowledgment.
.
Proper acknowledgment includes, but not limited to (a) LINK BACK TO THE ARTICLE in the case of re-publication on online media, (b) Proper referencing in the case of usage in research, magazine, brochure, or academic purposes,.
.
All contents are protected by the Digital Millennium Copyright Act 1996 (DMCA).
.
The images, except where otherwise indicated, are taken directly from the web, if some images were inserted by mistake violating the copyright, please contact the administrator for immediate removal.
.
We publish all content with good intentions. If you own this content & believe your copyright was violated or infringed, please contact us  for immediate removal.
🤑 Start Making Money from home today!
👉 Get the correct
FREE FOOTBALL PREDICTION
TIPS
and
Guides
today.
Click here