Economy
Top Locations Where Salt Is Found In Nigeria
Here is to bring to you a list of the top locations where salt Is found In Nigeria. We hope you find a lot of interesting information in this article.
Salt can be defined as a whitish and odorless substance that is mainly used for cooking and other purposes. It is salt that gives seawater its characteristic taste.
Without salt, it will be difficult to bring out the taste of food, not minding how much that has been investing in preparing the food.
Read Also: Steps To Set Up Salt Refinery In Nigeria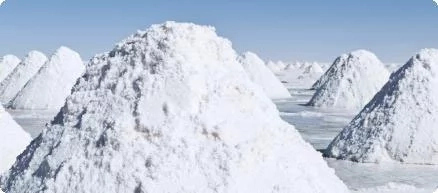 Its benefits can never be over-emphasized as it cuts across industrial use and others. It is used in making foodstuffs and in making beverages too.
It also goes a long way in preserving things. It keeps away microorganisms from growing on foodstuff and keeps it away from damage.
Read Also: 9 Steps to Produce Salt in Nigeria
Chemically, salt can be defined as a chemical compound that is formed when there is a reaction between acid and base, and all parts of the hydrogen of the acid are replaced by a metal. Salt is chemically called Sodium Chloride (NaCl).
Salts are named from the name of acid that formed it. For instance, hydrochloride acids are popularly called Chlorides, Sulphuric acids are called Sulphates, Nitric acid is called Nitrates; carbonic acid is called Carbonates while Acetic acid is called Acetates. So what determines the salt's name is based on the chemical that formed it.
Nigeria is one of the most endowed nations with mineral resources and salt happens to be one of the most common ones.
It is used daily in cooking, preservation process and also for its health benefits to human beings. There are different types of salt in existence, for example, table salt, sea salt, red salt, pink salt, black salt, smoked salt, Persian blue salt, grey salt, Himalayan salt, et cetera but the most popular salt in Nigeria among all these is the table and sea salt.
In this article, I am going to present you with a specified list of the locations in Nigeria and what they are known for.
There are different places salt can be found but it is mostly found in Ebonyi state, little wonder their slogan is "The Salt of the Nation".
Read Also: Analysis of Starch Market in Nigeria
Other places where salt deposit can be found include Sokoto, Katsina, Imo, Anambra, Cross River, Benue, Akwa Ibom, and Abia state.
There are salts that can be found on the land and they come from evaporation that occurred from ancient oceans.
Now, let us go into details about these locations. I am presenting you with ten (10) top locations in Nigeria where salt can be found.
Ebonyi state: This is the major state where salt can be found. Ebonyi is located in the Southern part of Nigeria and it was created in 1996. Because of the large deposit of salt found in their salt lakes, it was named "Salt of the Nation". This part of the state is populated by Igbos and the lake that has the highest deposits of salt is called Okposi Lake.
Abia state: This is another state where salt can be found in Nigeria. It is also populated by mainly Igbo people and was created in 1991. The state capital of Abia state is Umuahia while their main commercial city is Aba and the majority of the people that base there are businessmen and women.
Akwa Ibom: Salt is also gotten from this state, although they are well known for tourist attraction and they occupy people with great power and integrity. They are also well known for industrious farming activities.
Benue state: This state is located at the middle belt in Nigeria and salt can be gotten from there. People that populate here include: Tiv, Idoma and Igede and they speak mainly Tiv, Idoma and Igede languages as the case may be. This state is the highest producer of yam. They also serve as yam exporters to other states in Nigeria as that is the sole business.
Anambra State: This is another state in Nigeria where salt is found. They are populated by mainly Igbo people and foreigners patronize them in terms of business. They are located in the South Eastern part of the country.
Read Also: Notable Natural Resources In Ogbomoso, Oyo State
Kastina State: This state is located at the North-Western part of Nigeria and it's mostly populated by Hausas. They solely rely on farming and pastoral activities for a livelihood and it is mainly undertaken by men.
Imo State: This state is located in the South-Eastern part of the country and Owerri is its capital. Owerri is also the largest city in Imo state and Imo is populated by people that are highly educated. It is also one of the oil-producing states in Nigeria as well as salt producing state.
Nasarawa State: This state is located in the north-central part of Nigeria. Lafia is its capital. In as much as salt is gotten from this state, they are also into farming among which are yam farming, rice farming, millet, and other agricultural produce. They are mainly populated by the Hausas.
Sokoto State: This state is located in the extreme north-west of Nigeria, very close to the meeting point of Sokoto river and Rima river. They have very hot weather during the dry season and very cold weather during the rainy season. Their main occupation is farming and fishing which serves as their source of livelihood.
Cross River State: This state is located in the South-South part of Nigeria and is surrounded by rivers and lakes. The capital is located in Calabar and they are mainly farmers and fishermen. They are part of the top salt producing states in Nigeria.
Read Also: Top 10 Popular Natural Resources in Abia State and their Economic Values
Cross River is a state in South-South Nigeria, mainly occupied by rivers and lakes. Its capital is Calabar, they are known to be farmers and fishermen. Cross River is on top as the top producing salt in Nigeria.
I believe I have given you very good details of salt producing states in Nigeria, where they are located and other things they are known for.
Information is Power!
Don't miss any valuable information or opportunity that can change your life, business, and family positively and permanently.
👇👇👇👇👇
For Latest updates on News, Jobs & Business Ideas, and Opportunities.
Copyright Warning!
Contents on this website may not be republished, reproduced, or redistributed either in whole or in part without due permission or acknowledgment.
.
Proper acknowledgment includes, but not limited to (a) LINK BACK TO THE ARTICLE in the case of re-publication on online media, (b) Proper referencing in the case of usage in research, magazine, brochure, or academic purposes,.
.
All contents are protected by the Digital Millennium Copyright Act 1996 (DMCA).
.
The images, except where otherwise indicated, are taken directly from the web, if some images were inserted by mistake violating the copyright, please contact the administrator for immediate removal.
.
We publish all content with good intentions. If you own this content & believe your copyright was violated or infringed, please contact us at [infoguidenigeria@gmail.com] for immediate removal.
🤑 Start Making Money from home today!
👉 Get the correct
FREE FOOTBALL PREDICTION
TIPS
and
Guides
today.
Click here
.
👍Advertise your business here!
With over 1M unique users per month across all channels, we have a large audience for you to showcase your products and services. Simply get in touch via 👉 marketing@Infoguidenigeria.com.
🤑 Make Money now!
👉 Make money writing for us. Apply for Freelance writing jobs in Nigeria.
👉 Make Money as InfoGuideNigeria Advertising Agents, read more here
.