Security
Nigerian Police Salary According To Ranks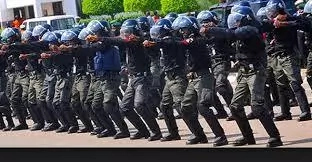 The Nigerian Police is the agency in charge of maintaining law and order. It also has a mobile police unit in charge of operations concerning security threats such as crisis and insurgency situations.
The police was believed in the past to be one of the most poorly paid jobs. This led to reduced interests in the agency by potential police officers and men.
However, there have been improvements on this recently. In this article, we will examine the salaries of police officers and men in Nigeria so that those considering joining can have an idea of what to expect in terms of compensation before making the move.
Read Also: Issues Affecting The Nigerian Police Force
Departments of the Police Force
The police has different departments responsible for different things to ease their work. The following are the departments and their functions.
Administration and Finance
This department directs, co-ordinates and supervises the activities of all department under it. It regulates the policies and how and administration and finance of the force is ran.
It also reviews standard orders and regulations of the Police from time to time. It is like the executive arm of the government of the federation and it helps to maintain the general functioning of the force.
Operation
This department formulates and organizes security measures within the country. It also monitors and carries out security actions when there is an emergency.
It is the department in charge of all actions to combat crime, terrorism and anything that threatens the peace.
Read Also: 10 Problems of Nigerian Police and Possible Solutions
Logistics and Supply
This is the department in charge of purchase of equipment, vehicles and materials for the force. It plans building programs, maintains police buildings and builds new ones when there is need. This department is responsible for acquisition and maintenance and disposal of all physical assets of the force.
Investigation
This one is responsible for intelligence gathering and carrying out investigations on crimes. It coordinates all activities involving fighting of drug dealers, prosecution. It also formulate policies on crime in the country.
Training
This department formulates and implements policies on supervision of training in the force. It also coordinates the activities of the force and all police staff colleges in the country.
Everything concerning training and liaison with tertiary institutions to upgrade the force is coordinated by this department.
Research and Planning
This department carries out research on how to improve the force and helps to plan based on the findings of such research.
Information and Communication
This department handles things having to do with information on modern methods of law enforcement and crime fighting.
They manage the electronic data base of the force to manage information on computers in soft copies. It is also responsible for training of staff on computer and information technology and management.
Read Also: Nigeria police salary structure 2018
Office of the Force Secretary
This department appoints and promotes appointment of superior offices of the force. It also calls for police council meetings, deploys, disciplines, and keeps records of superior police officers.
Police salaries by ranks in ascending order
The following are the salaries of personnel of the Nigerian Police. The salaries are in ranges which depend on the Grade Levels assigned to the personnel.
For instance the rank of Commissioner is divided into three and each of the three earn based on their Grade Levels which are different.
Recruit
This is a prospective police man who is still in training to be enlisted. It is the lowest rank in the Police Force. A person of this rank earns a monthly salary of ₦9,019.42 and annual salary of ₦108,233.
Constable
The Constable is the lowest rank in the police force. People in this cadre are newly enlisted and they earn an annual income of ₦519,525 minimum ₦613,363 maximum as salary.
Corporal
This is the second lowest rank in the force. This rank is superior to that of Constable. Corporals earn from ₦536,586 to ₦613,365.as their annual salary. Note that this includes the rank of Lance Corporal.
Sergeant
This is the third lowest rank in the force. it is a middle rank of the non-commissioned cadre. A Sergeant earns between ₦582,490 and ₦671,686 a year as their salary.
Sergeant Major
This is the highest rank in the Non-commissioned cadre. He helps with officers' administration because he has a wealth of experience gained through years of service. A Sergeant Major earns between ₦661,737 and ₦746,458.
Read Also: 5 Major Functions of the Nigerian Police Force
Cadet Inspector
This is the lowest rank in the commissioned cadre. This rank is for officers in training at a Police Staff College or on attachment after graduating from Police Academy.
They are commonly referred to as Inspectors of Police. People on this rank earn ₦878,778.12 to ₦1,045,628.4 as annual salary.
Assistant Superintendent of Police (ASP)
This is the second lowest rank in the commissioned cadre. It is the rank attained on completion of cadet training. The minimum and maximum annual salary of an Assistant Superintendent of Police is ₦1,531,256 to ₦1,875,820 respectively.
Deputy Superintendent of Police (DSP)
This is a senior officer rank in the Police Force, just above the Assistant Superintendent. Deputy Superintendents of Police receive between ₦1,784,799 and ₦2,044,796 per annum as annual salary.
Superintendent of Police (SP)
This is a senior officer rank even higher than Deputy Superintendent of Police. A Superintendent of Police earns a minimum of ₦1,937,739 to a maximum of ₦2,251,400 annually.
Chief of Superintendent of Police (CSP)
This is a higher senior officer rank than Superintendent of Police. A person with this rank is entitled to ₦2,065,068 to ₦2,396,687 in a year as salary.
Assistant Commissioner of Police (ACP)
This is the sixth highest rank in the senior officer cadre. An officer of this rank has an annual salary between ₦2,198,228 to ₦2,555,257 per annum.
Deputy Commissioner of Police (DCP)
This is a higher rank than Assistant Commissioner of Police. He is like an assistant to the commissioner of police and acts in his absence. Officers with this rank earn from ₦2,912,587 to ₦3,346,000 annually as salary.
Commissioner of Police (CP)
Police officers with this rank are in charge of state commands and serve as the number one police officer in a state. Police Commissioners an annual salary of ₦3,201,333 to ₦3,635,645 per annum.
Assistant Inspector General of Police (AIG)
This is the second highest rank in the Police Force. Officers with this rank assist the Inspector directly. AIGs earn between ₦5,997,022 and ₦6,558,872 per annum as annual salary.
The Inspector General of Police (IGP)
The inspector General has the highest rank in the force which automatically makes him the overall head of the force as only one person has this rank in the country at a time. The IGP has an annual salary of ₦8,537,976.
Read Also: Nigerian Police Ranks and Salaries Structures
Conclusion
This is all the information on the salaries of personnel of the Nigerian Police. Please note that these figures may not be accurate but are meant to be estimate that should give you an idea of what to expect. Please comment if you have some additional information on this subject. Thank you.
Click here to see the latest
Jobs opportunities in Nigeria
.
Click here to Join
Recharge and Get Paid
Click here to Read Latest School News in Nigeria
Copyright Warning!
We work really hard and put a lot of effort and resources into our content, providing our readers with plagiarism-free articles, original and high-quality texts. Contents on this website may not be copied, republished, reproduced, redistributed either in whole or in part without due permission or acknowledgement.
Proper acknowledgement include, but not limited to (a) Proper referencing in the case of usage in research, magazine, brochure, or academic purposes, (b)"FAIR USE" in the case of re-publication on online media. About possible consequences you can read here: What are the consequences of copyright infringement? In an effort to protect our intellectual properties, we may report your website to Google without prior notice and your website be removed from search engines and you may receive a strike. All contents are protected by the Digital Millennium Copyright Act 1996 (DMCA).