In this post, we will look the Problems of made in Nigeria goods and suggest possible solutions to them. A recent report by the Nigerian Textile Manufacturers Association (NTMA) states that Nigerians spend over $4Billion (N1.3 Trillion) annually on the importation of Textile materials and already-made clothes. Almost everything are imported into Nigeria.
Recently, transportation Minister, Rotimi Amaechi stated that the amount spent importing agricultural products annually stands at over $2B (N600M).
Even 30% of livestock slaughtered in Nigeria are imported from neighbouring countries. Minister of State for Trade and Investment, Aisha Abubakar put the figure for general goods import into Nigeria at N7 Trillion Annually.
 Read Also: How to Buy Goods at Amazon and Ship to Nigeria Using Shoptomydoor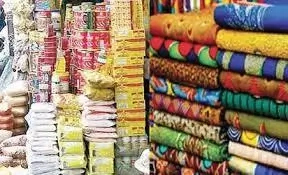 The overdependence on importation has had serious adverse effect on our economy, and it has also affected the GDP of the nation.
Nigeria as one of the largest countries in Africa, blessed with over 50 natural resources has the capacity to locally manufacture products needed by it's citizens.
The country is also blessed with a population of over 140million people which serves as an overwhelming source of man power.
Unfortunately, even the few goods produced in the country have always suffered low patronage and a host of other pertinent issues that has made majority of Nigerians ditch locally made products for foreign made products.
Nigerian made goods have always encountered a lot of problems, top of which is the low patronage issue. Made in Nigeria goods have not had a good impact on the nation's economy because of it's low patronage.
An increased level of patronage for local products is very necessary for the growth of the economy. There are also several other benefits tied with patronizing locally made goods.
Considering the bad shape of the economy, locally made products and services remains the only means through which sustainable employment can be guaranteed .
Therefore, this article intends to highlight the numerous problems affecting made in Nigeria goods and their possible solution. Major problems affecting of made in Nigeria goods are discussed below:
Read Also: How to shop on ALIEXPRESS and Ship the goods to Nigeria
1. Consumer Behavior
The growth of made in Nigeria products seriously suffers from negative buyer sentiment. This has continued to affect patronage and has contributed to the scarcity of locally made products as the manufacturers lost the morale to keep on producing goods which the populace perceive as inferior even when they have not tested the products.
With this mentality, an average Nigerian is likely to pick an imported product over a locally made product as they believe the imported products can never be of bad quality. This mentality has basically affected manufacturers with most facing bankruptcy due to lack of patronage.
2. Low Quality Products
An overwhelming percentage of locally made products usually lacks required quality. This is a result of manufacturers trying to make extra profit or insufficient amount of raw materials.
Also, quality standards regulatory mechanism for commercial production are not taken seriously by the government.
3. High Price
It is expected that the locally made products should be of a lower price than the imported product, but this is usually not the case as locally made products that are not of assured quality are sold at an outrageously higher price or almost same price with the imported products.
This usually affects the patronage of these products as buyers would prefer to purchase product which are of assured quality rather than buying locally made products of same or even higher price with unassured quality.
Read Also: Top Online Stores in Nigeria you Can Buy Goods Without Problems
4. Lack of Advertisement
Most manufacturers in Nigeria are usually small and medium entrepreneurs who lack the financial wherewithal to launch an aggressive advertisement program.
Also, the government has not done enough to enlighten the populace on the importance of purchasing locally made products and it's effect on the economy.
5. Lack of Government Support
Lack of functional railway, electricity, over-taxation, poor road networks, bribery and corruption has also contributed to the lack of patronage associated with locally made products.
Lack of government support is also identified as a major problem affecting made in Nigeria products. Government has also not contributed enough funds to the training and establishment of entrepreneurs.
The government have also failed to enact policies that would enable more financial support of entrepreneurs and manufacturers by banks and financial institutions.
6. Lack of Export Worthy Products
Nigerian Export Promotion Council (NEPC) have failed to monitor and regulate the quality of goods produced in Nigeria hence, products manufactured in the country usually fail export requirements.
Also, the over reliance on crude oil as the primary export commodity and foreign exchange earner has also worsened the situation of local industries in the country as majority of government's investment are channeled towards the oil sector, leaving nothing for the local industries.
This directly contributes to the production of low quality products which cannot serve as a reliable source of foreign exchange.
7. Low Revenue
Low revenue and low income caused by low patronage has driven most local industries, manufacturers and SMEs to bankruptcy. This is also a major problem affecting locally made products and services.
8. Lack of Innovative Products
Locally made products are usually a low quality replica of the imported products, therefore most customers prefer to buy the original and quality product rather than the locally made replica. Most Nigerian manufacturers are not inventive and even the few inventive ones are not encouraged.
9. Unsupportive Government Policy
There is a need to review our importation policy in order to discourage items that can be locally manufactured. If this can be achieved, a lot of our locally manufactured products will witness an upsurge in patronage. It will also create jobs for the unemployed as well as boosting the nations economy.
Read Also: How to Buy Online Goods from Nigeria
10. Unavailability of Raw Materials
The unavailability of materials needed to service our local industries is also a major problem of locally made products.
The industries and manufacturers suffer from inadequacy of raw materials and even in situations where they are available, it is always subjected to incessant price hike.
Also, most producers of raw materials needed to service our local industries prefer to export it them rather than sell to local industries.
To annihilate the problems facing made in Nigeria products. There is a need for every stakeholder involved to take the bull by the horn.
A right step in the right direction is urgently needed to salvage the dwindling fortunes of made in Nigeria products. The steps includes :
a. Production of top quality products by manufacturers and government's regulation of product's quality should be taken seriously.
b. Government and private organizations should aggressively sensitize the populace on the need to patronize locally made products.
c. Relevant government agencies should be actively involved in regulating the prices of locally made product so as to boost its patronage and affordability.
d. Policies to grant local manufacturers and industries affordable product advertisement packages should be put in place by relevant agencies.
e. Functional railway system, reliable electricity, good road networks, potable water and other facilities and infrastructure needed to boost productivity should be provided by the government.
f. Manufacturers and entrepreneurs with Inventive and innovative ideas should be supported and encouraged by the government and even private organizations.
Read Also: How to Export Goods from Nigeria to other countries
g. Urgent review of our importation policy to discourage the importation of products that can be produced locally.
h. There is a need for a serious stance against the smuggling of banned products into the country.
i. Cheap and available raw materials should be provided to service the local industries.
Click here to see the latest
work from home jobs
Click here to see the latest
Jobs opportunities in Nigeria
.
Click here to Join
Recharge and Get Paid
Click here to Read Latest School News in Nigeria
Copyright Warning!
We work really hard and put a lot of effort and resources into our content, providing our readers with plagiarism-free articles, original and high-quality texts. Contents on this website may not be copied, republished, reproduced, redistributed either in whole or in part without due permission or acknowledgement.
Proper acknowledgement include, but not limited to (a) Proper referencing in the case of usage in research, magazine, brochure, or academic purposes, (b)"FAIR USE" in the case of re-publication on online media. About possible consequences you can read here: What are the consequences of copyright infringement? In an effort to protect our intellectual properties, we may report your website to Google without prior notice and your website be removed from search engines and you may receive a strike. All contents are protected by the Digital Millennium Copyright Act 1996 (DMCA).